Sample 1:
Jacket:
Jacket twill is similar to later issue and arid versions. Bottom pockets have elastic material at rim.
Pants:
Pants twill is rougher, more rigid denim. Possibly similar to denim battledress overall material. Ink appears to be sitting on surface like paint, not soaked in; could be why these have a tendency to fade translucently.
Sample 2:
Jacket has similar cut to that of Sample 1. Has Army patches on arms. Green printed over brown.
Sample 3: BSAP PATU Jacket
Assuming this jacket stayed in the BSAP for its entire time in Rhodesia, it was probably one of the first camouflage items issued to the BSAP in the late 1960's. Green printed over brown. Has an internal pocket in blue material ("riot blue"?) on right shoulder.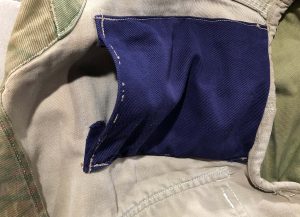 Sample 4:
Very similar to Sample 1 (1966). Tag is identical to that of Arid prototype (same manufacturer and text), but filled in and named to a BSAP constable. It contains a printing error on the green "Y" shape.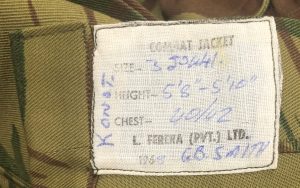 Brown printed over green like Sample 1.
Pattern Comparisons with other 1st Pattern samples on this page:
All comparisons performed with 1st pattern samples on this page and standard pattern examples on the corresponding page. The popular green over brown color order alone is only sufficient to identify items as "not standard pattern" if an item fails that test. While the standard version is consistently printed green over brown, this page shows that the first pattern can be printed in either order (green over brown AND brown over green). Similar inconsistencies were observed with the Zimbabwe version of the pattern which has added shapes not present in either the earlier 1st pattern nor the standard pattern. It is far more reliable to examine the pattern shapes to make an accurate identification.
Pattern Variation: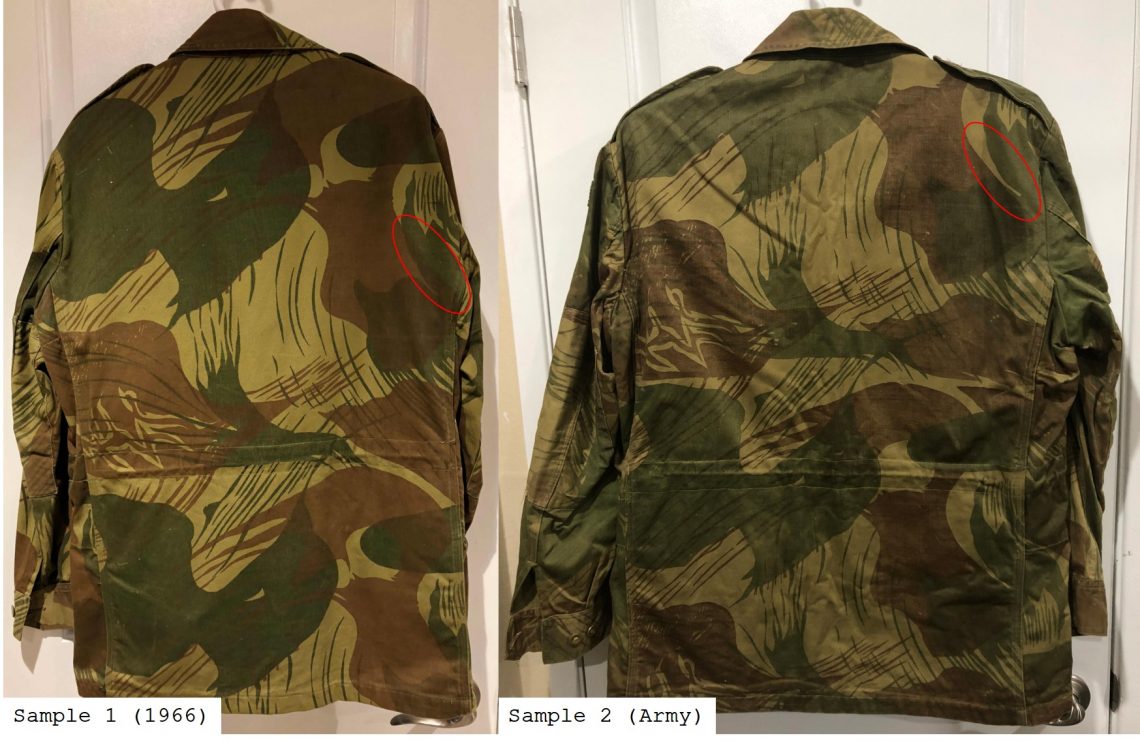 Samples 1 and 2 have the brown screen in slightly shifted positions. This is very apparent on the "alien rooster-worm" where the brown goes through the head on Samples 1 (1966) and 4 (1968) whereas it stays in the "comb" in Sample 2. Samples 1 and 4 have the brown over green printing order in common, but the presence of the brown shape in the head does not appear to be exclusive to items printed brown-over-green since Sample 3 is green over brown and appears to have the brown in the same location in the comb.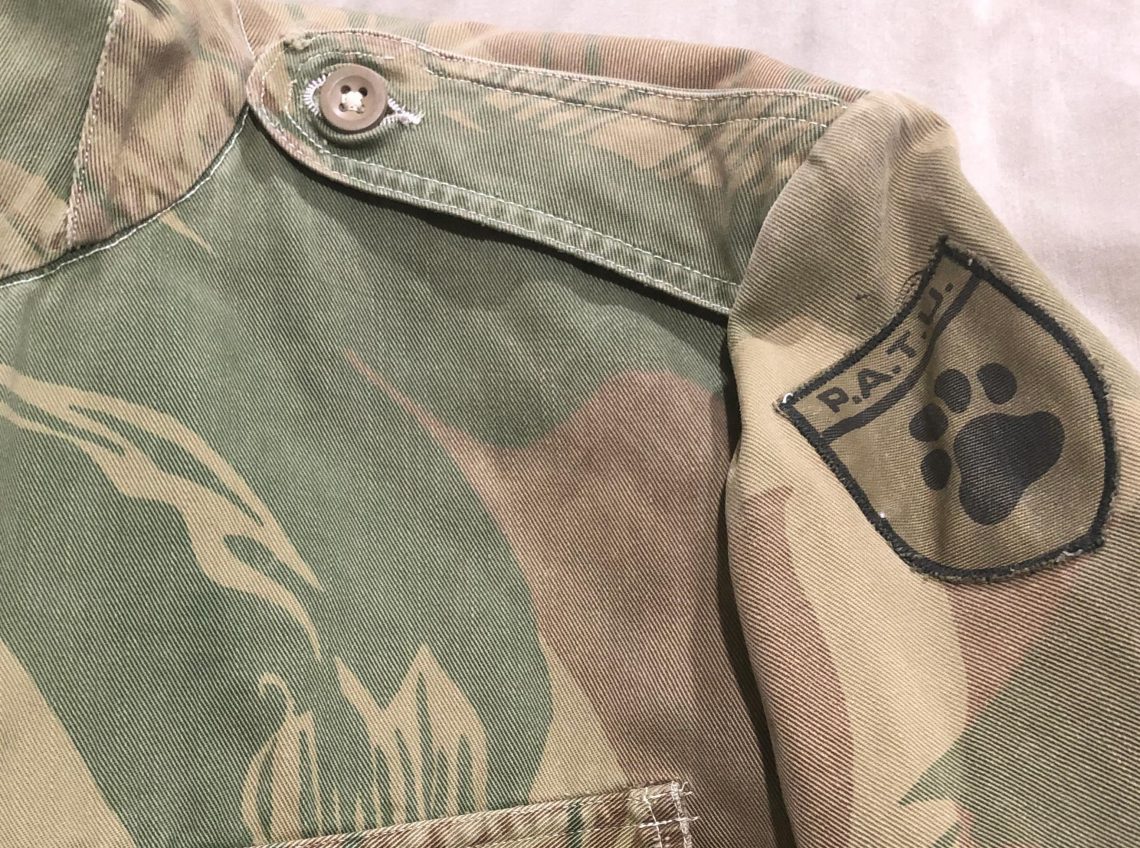 An example with the brown going into the head and brown over green, similar to Samples 1 and 4, can be seen here: https://www.samilitaria.com/SAM/product/7723-rhodesian-special-air-service-combat-jacket-ref-rhodesia/
The print variation in Sample 3 (brown in comb) probably came at a later date one since the analogous parts in the more common standard, 1970s version of the Rhodesian pattern are in a similar position.
Usage Photo:
Likely same exact jacket as https://www.samilitaria.com/SAM/product/7723-rhodesian-special-air-service-combat-jacket-ref-rhodesia/
Colour Sergeant rank (in usage photo) removed.
Back side of this particular jacket can be viewed above.