Sample 1: Mid-Late War Bush Jacket
Mid – late war production.
Issued to "Willard" (name written on inside back across tag). Tag faded, nearly unreadable. Says something about "Coats, Combat…".
Sample 2: Mid-Late War Bush Jacket 2
Much darker brown than Sample 1.
Sample 3: Earlier (Mid-War?) Bush Jacket
Earlier war production. Tag is attached only on one edge. No markings. Green internal drawstring intact. Has zippered pocket on bottom back outside.
Sample 4:
Sample 5: Late War Shirt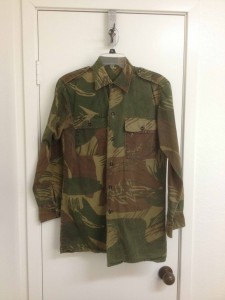 No pleats on pocket. Small size.
Sample 6: Boonie Hat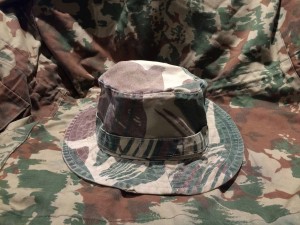 Sample 7:
Mint condition shirt.
Usage Photo:
Some Rhodesian camouflage items were used after 1980 by special units of the SADF like 44 Parachute Brigade (pictured below, Ken Gaudet from 1981) the Recces, and South African aligned units like Koevoet. "Unconventional" users included western-backed organizations like UNITA and RENAMO as well as their communist-backed opponents (ANC, MPLA, PAC).
For arid season "prototype", see http://kommandopost.com/index.php/2015/09/08/rhodesian-arid-brushstroke-pattern-1960s/
For earliest version, see http://kommandopost.com/index.php/2016/05/13/rhodesian-1st-pattern-camouflage-1965-1966/