The Crye field uniform is their version of the BDU.  Unlike the combat items it does not use stretch materials in the design.
Army Custom:
DGIII Field Shirt:
DGIII pattern is very close to AOR2 (NWUIII) like pattern.  If it is a prototype, it was probably one of the later ones compared to the earlier horizontal prototype due to its similarity with the issued NWU Type 3.   Pattern contains "DGIII" watermarks.
Multicam Field Shirt:
Has remnants of sewn-on insignia.
AOR1 Field Pants:
It is the one on the CAG prototype page.
Navy Custom:
Field Shirt/Jacket:
Pockets are slanted outwards like Sample 8 on the Modified BDUs page, maybe to allow easier access under body armor?
Similar to Army Custom field shirt, except buttons used as a primary closure instead of velcro.  See the comparison page for more pictures.
Pants:
This item was issued to a SEAL Team 10 member.  These patches were found in a cargo pocket of the pants: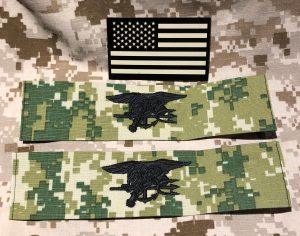 The waist pockets contained this paper with the SEAL's contact info (identifying info has been censored).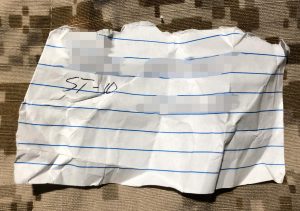 Comparison:
Field Shirt/Jacket:
Arm Pockets:
Navy Custom appears to use a shorter velcro square, and is closed primarily with buttons as opposed to velcro on the Army Custom version.  The Navy Custom one also lacks the secondary pocket inside that the Army Custom has.  The Navy Custom's button holes are on a secondary BDU-like internal flap that the Army Custom one does not have.
Chest Pockets: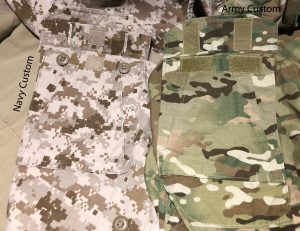 Like the arm pockets, the Navy Custom's is closed primarily with buttons and has its holes on an internal flap whereas the Army Custom one is closed primarily with velcro and does not have the flap.  The outside pocket underneath the bellows one is only found in the Army Custom version, but this might be because the Army Custom's chest pockets are slanted inwards like a Jungle Jacket/British Smock.
Elbows: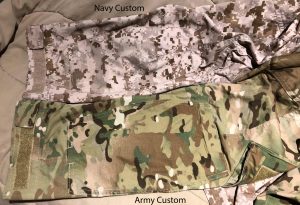 Army Custom has velcro opening on top (closer to body) while Navy Custom has opening on bottom (closer to wrist cuff).
Navy Custom has 1 more lower button, located below where the last one on the Army Custom would be.
Pants:
Thigh Pockets (above knees):
Army Custom has an external bellows pocket here like the Combat pants whereas the Navy Custom has an internal knife/flashlight pocket located further up (closer to waist).
Cargo Pocket: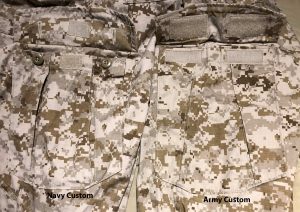 Like the field top, the Army Custom closes with velcro while the Navy Custom has buttons and a BDU-like internal flap.
Belt Loops: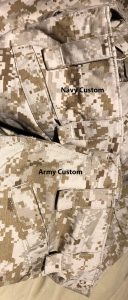 Navy Custom belt loops are larger than those of the Army Custom.  Back pocket is identical.
Knees: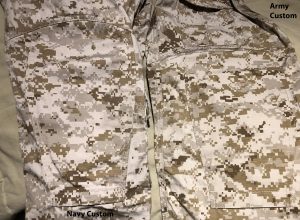 Identical except for flipped hook/loop locations on lower opening (may just be for these particular samples).
Ankle Pocket: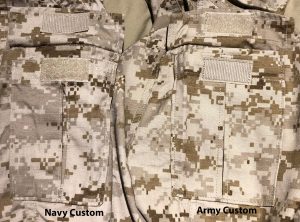 Identical, except hook/loop locations are flipped (may just be for these particular samples).
Fly: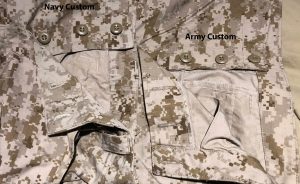 Identical button closure.