This type of jacket was clearly based on the US M1951 but with exposed pocket buttons instead of metal snaps. The jacket was probably made in Japan as part of CISO's supply chain (source: https://www.facebook.com/groups/1726441960963865/posts/2678590362415682/). Similar jackets have been found with "DAJ" contract numbers (source: https://www.vintageproductions.com/archive-of-previously-sold-items/doj-made-field-jacket-as-used-by-arvns; note "DOJ" here appears to be a typo.). While some speculate this means they were made in Japan, in reality DAJ items could have been produced in a variety of Asian countries since "J" was only part of a procurement office code. There were many letters that could follow "J" for different locations, such as JA (mostly Europe), JB (mostly Asia), JC, JD (mostly South America), and perhaps other J-letter contract numbers. JB contracts are most commonly associated with items meant for the Vietnam War (source: https://www.facebook.com/groups/1726441960963865/posts/3511447105796666/?comment_id=3511455719129138&reply_comment_id=3513075108967199).
JB03: US Army Procurement Agency, Korea
JB04: US Defense Attache Office, Saigon
JB07: Joint US Military Advisory Group (Thailand)
JB09: HQ, US Army Procurement Agency Ryukyu Islands (of which Okinawa is the largest) but in practice they also awarded some contracts to companies in Taiwan
JB11: US Army Procurement Agency, Vietnam
JB17: US Army Procurement Agency, Japan but like the Ryukyu islands some of their contracts were awarded to companies in Taiwan.
JB21:12th Army Security Agency Field Station (located near Chitose in Hokkaido, Japan)
JB29: US Army Procurement Office, US Army Support Thailand
"DA" itself referred to "Department of the Army" (N is Navy, M is Marine Corps, F is Air Force, and "DSA" is Defense Supply Agency) (source: https://www.facebook.com/groups/1726441960963865/posts/3511447105796666?comment_id=3511455719129138&reply_comment_id=3512373445704032).
Chest Insignia Remnants:

Left Arm Patch Remnants:
Patch remnants for an unofficial aviator Snoopy patch, facing backwards, with a crest were found on the left shoulder (as worn). This means the previous owner was likely part of an aircraft crew.
Stamp: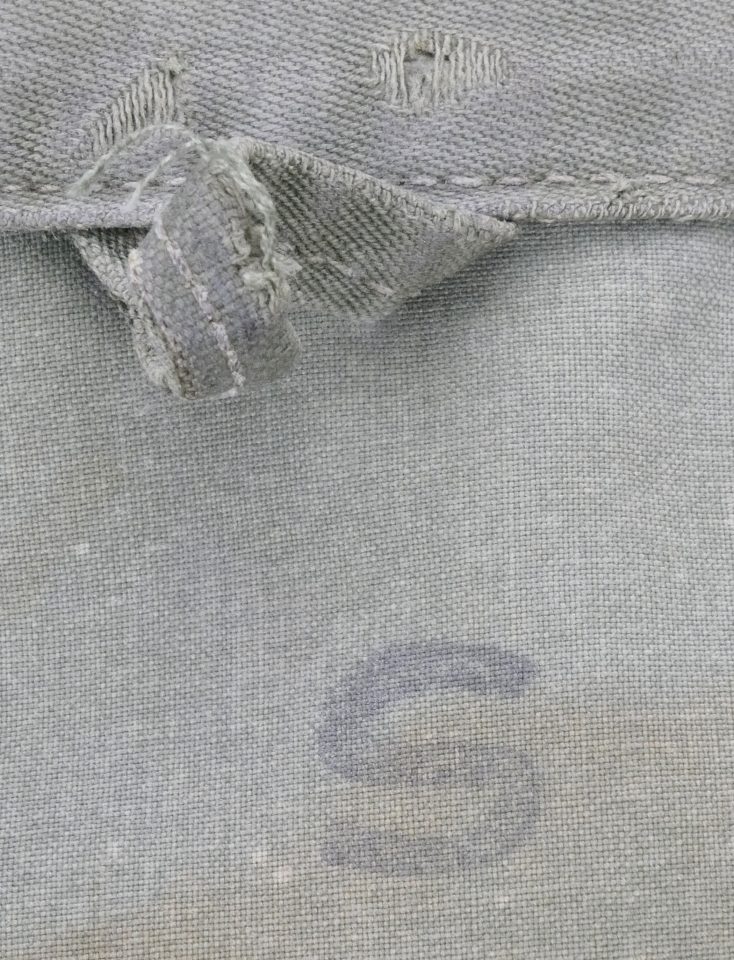 The size stamp is the only identifying marking left inside the uniform. There are small lot numbers stamped to various parts from the mass production process.
Upper Pockets: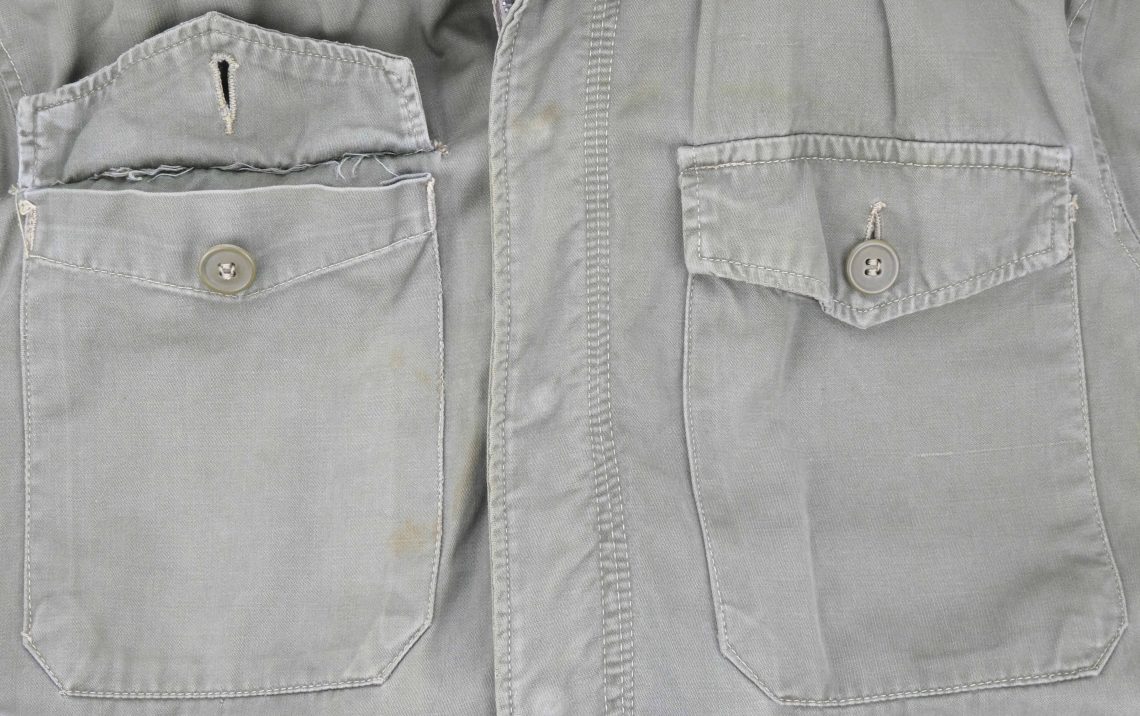 Patch pockets instead of bellows like M65 or M51.
Lower Pockets: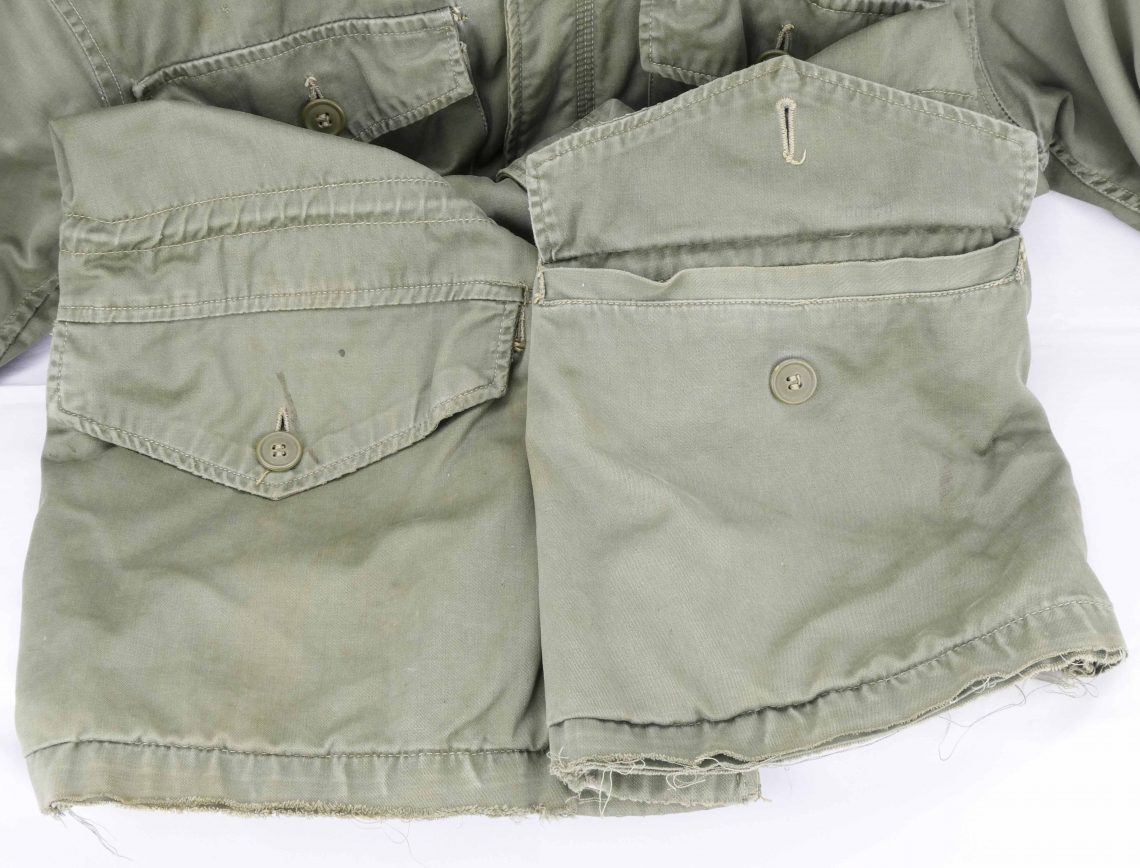 Button: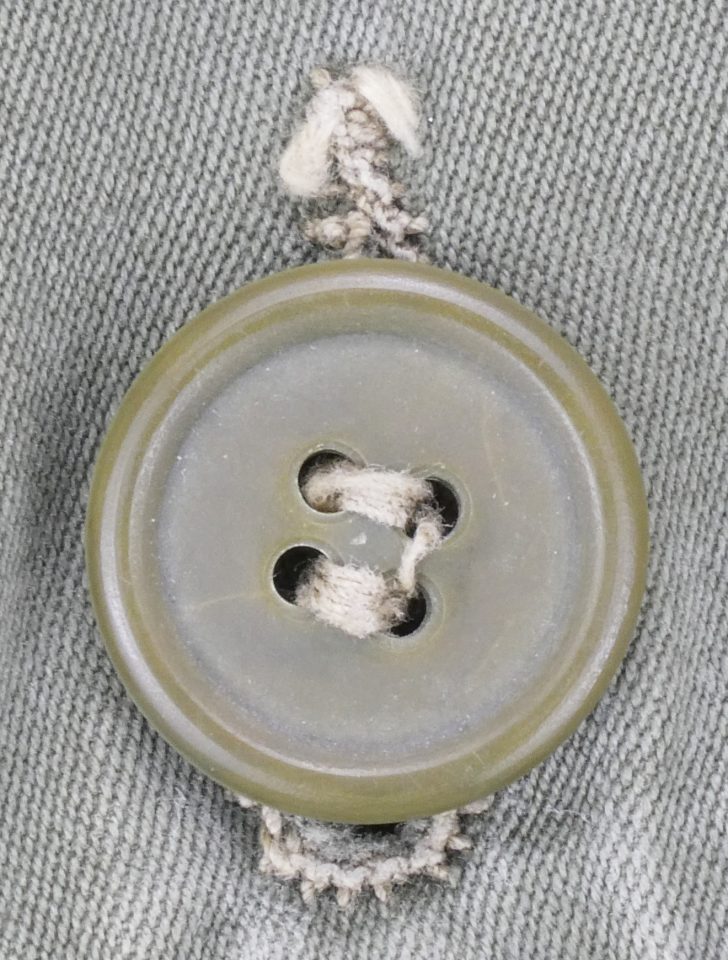 Same type of flat rimmed dishpan buttons as tiger stripe shirt.
Collar: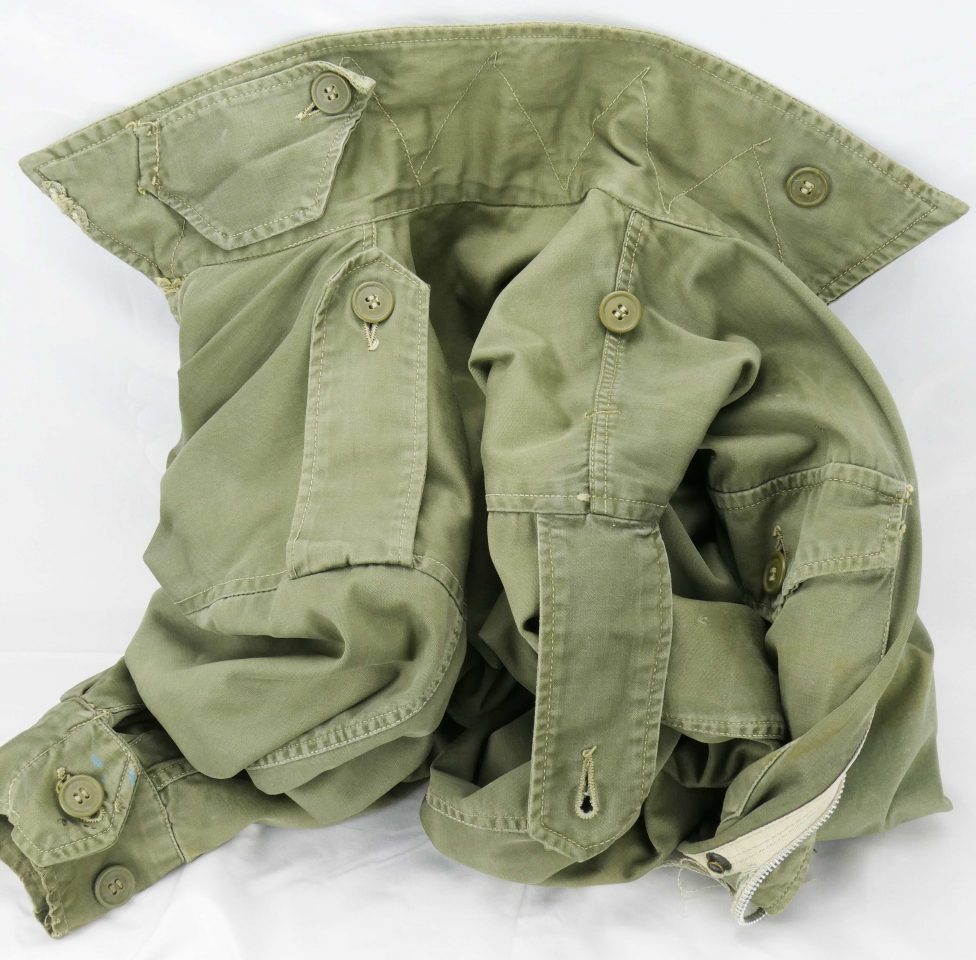 Collar Flap:
Meant to close collar like French TTA 47.
Inside: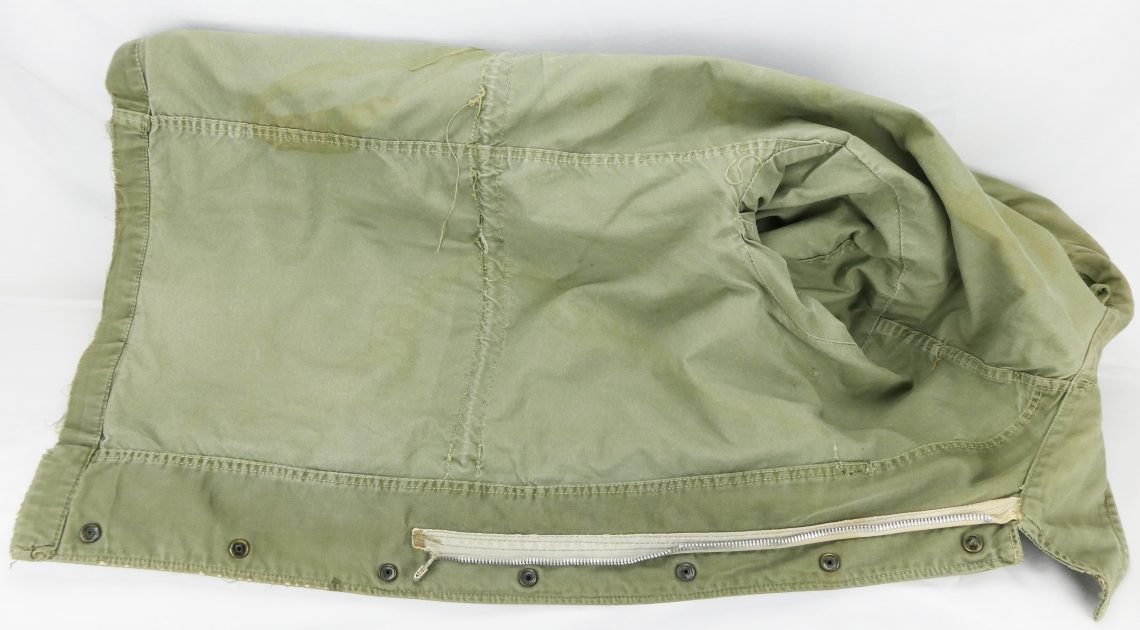 Cuffs:
Materials:
Since the jacket was heavily used, there were many tears that exposed the internal construction. This jacket is constructed out of similar materials as a US M1951 field jacket. The outermost shell is likely cotton sateen and the inner lining is likely a lighter poplin like what was used in non-ripstop jungle fatigues.
Snaps and Zipper:

Zipper is missing slider and some teeth from heavy use in harsh conditions.
Waist Cord:

Usage Photos:
MAC V SOG: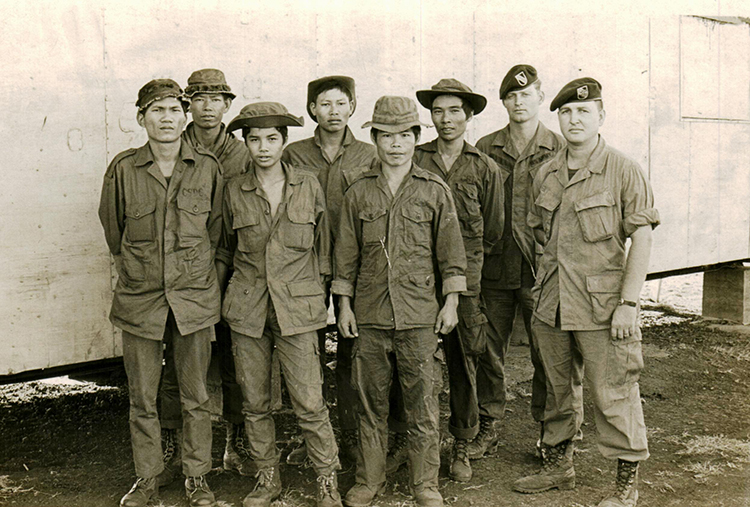 These jackets were probably intended for the South Vietnamese Field Police (Cãnh Sát Dã Chiến, CSDC) as seen by the stamp on the usage photo, though some appear to have been repurposed by SOG.
Laos:
These jackets were also used by some US/Royal Laotian-aligned militia groups that fought against the communist Pathet Lao. Most photos of this jacket in use are from the end of the Laotian Civil War (1972 – 1975).