The Counter Insurgency Support Office (CISO) was responsible for manufacturing and procuring supplies for America's South Vietnamese allies, including many covert programs such as the Studies and Observations Group (SOG), in the Vietnam War. It was officially founded on February 27, 1963 to support the Civilian Irregular Defense Groups (CIDG) program, initially called the Village Defense Program (VDP), which set up US-aligned militias composed of ethnic minorities in Vietnam, such as the Montagnards, in remote areas of South Vietnam to deter communist Viet Cong guerillas and to serve as intelligence sources since the South Vietnamese government often ignored the concerns of or discriminated against these minorities. Previously, between November 1, 1961 (start date of the VDP/CIDG program) until July 1, 1963, logistical responsibility for the CIDG belonged to US Special Forces personnel and the CIA's Military Assistance Advisory Group (MAAG, could be the "US Mission" described in Vietnam Studies US Army Special Forces 1961 – 1971 by Colonel Francis J. Kelly) (sources: https://history.army.mil/html/books/090/90-23-1/CMH_Pub_90-23-1.pdf, https://arsof-history.org/articles/v5n4_cidg_page_1.html, https://apps.dtic.mil/sti/pdfs/AD0392458.pdf, page 79 [85 in PDF file], https://www.facebook.com/groups/1726441960963865/posts/3272211659720213?comment_id=3272410109700368). CISO's products were paid for using PARASOL SWITCHBACK funds (source: https://apps.dtic.mil/sti/pdfs/AD0392458.pdf, page 81 [87 in PDF file]). Operation Switchback was the name for the phased operation where control of the CIDG program was passed directly over to MACV (Military Assistance Command Vietnam) from MAAG's Combined Studies Division, including logistics (sources: https://arsof-history.org/articles/v5n4_cidg_page_1.html, https://apps.dtic.mil/sti/pdfs/AD0392458.pdf, page 79 [85 in PDF file]), with "Parasol" referring to the logistics portion. This meant that CIDG operations after July 1, 1963 were under the control of the military and not the CIA (source: https://arsof-history.org/articles/v5n4_cidg_page_1.html).
CISO was headquartered on Okinawa, Japan and headed by Special Forces Captain David E. Watts and Deputy Commander Conrad "Ben" Baker (sources: https://sofrep.com/news/sogs-q-named-honorary-member-sf-regiment/, http://modernforces.co.uk/blog/2020/11/26/conrad-ben-baker-ciso/). Their products included the famous SOG knives, sterile fatigues for cross-border operations, indigenous rations, footwear and clothing made for South Vietnamese forces. They supplied 80% of all supplies for the CIDG in 1964 (source: https://apps.dtic.mil/sti/pdfs/AD0392458.pdf, page 81 [87 in PDF file]), including jungle rucksacks and tiger stripe camouflage fatigues (source: http://modernforces.co.uk/blog/2020/11/26/conrad-ben-baker-ciso/, https://specialforceshistory.com/uniform/tiger-stripe-uniform-2/).
Mirror of the now-declassified 5th Special Forces Group Operational Report for the Fiscal Year Quarter ending in April 1968 PDF describing CIDG and CISO logistics available here: https://kommandopost.com/files/AD0392458.pdf
The pouches on this page are among the most commonly encountered CISO items. These were generic magazine pouches that could be adapted for a variety of weapons, though they were most commonly used with M3 Grease Gun magazines. The pouches have a passing resemblance to Warsaw Pact AK pouches.
There are many variations of the CISO pouch. Other versions, including items not shown on this page, can be seen here:
There are anecdotes and speculation that these pouches were used by CIA-supported guerillas worldwide, leading to the generic term "CIA Pouch", first used in-print in the Japanese publication Combat Magazine. They have also been called "indigenous pouches" (source: https://advisors.link/vietnam/cia-pouch/). It is possible that some of these pouches may not be strictly CISO items since they can be seen in photos that pre-date CISO's official founding date (source: https://commons.wikimedia.org/wiki/File:Anti-communists001.jpg), however they are included on this page since all pouches share design characteristics; they could have also been supplied by CISO's predecessor supply chain and logistics network. It is also possible that these pouches were not necessarily manufactured by CISO, but were procured from third party subcontractors through CISO or a related program, like the SOG knives (source: https://en.wikipedia.org/wiki/SOG_Knife).
Leather Tab:
This is made of a thicker canvas than all the other bags shown on this page.
Open:
Magazine slots are much narrower than other bags on this page, indicating it might be specifically for M3 submachine gun magazines.
Leather Tab Fastener:
Side Pouch:
Side pouch in this case is likely for a cleaning rod.
Side Pouch Fastener:
Button hole on flap connects with stud.
Metal D-Rings: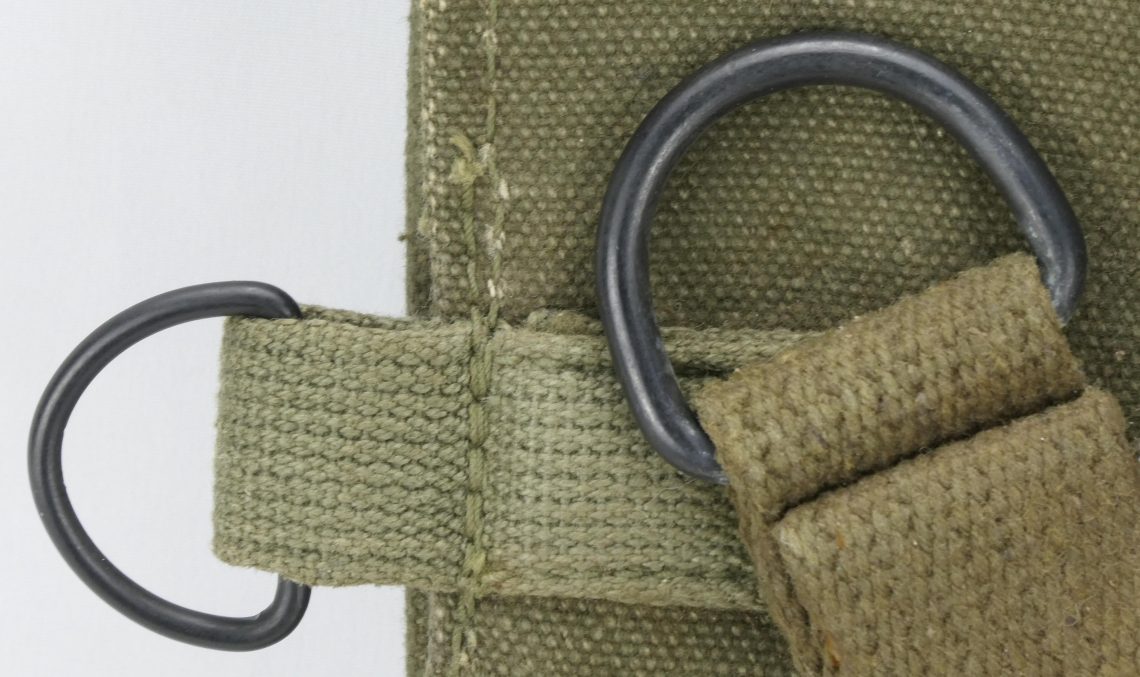 D-rings are for a detachable sling that was not found with this item.
Usage Photos:
Vietnam War:
Civilian Irregular Defense Group (CIDG):
The Montagnard CIDG photos above pre-date CISO's founding, so this version might not have been procured through CISO.
Long Range Reconnaissance Patrol (LRRP):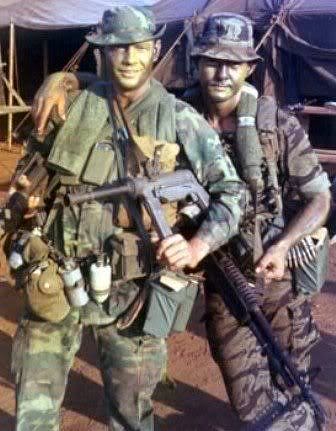 Long Range Reconnaissance Patrol (LRRP) identification from http://aegis0079eagle.blog.fc2.com/blog-entry-2.html.
American Advisor: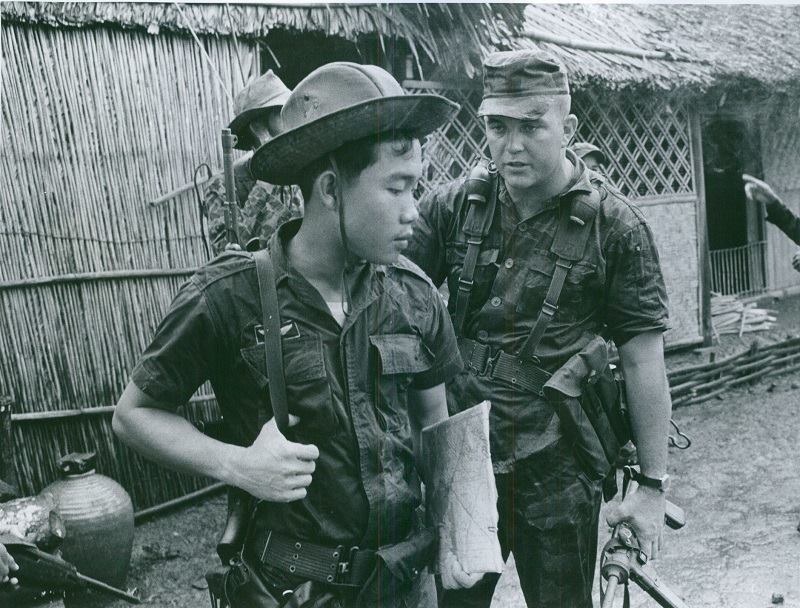 The advisor is likely attached to Nhay Du given the South Vietnamese paratrooper wearing their uniform in the foreground.
Snap Fastener, no side pouch:
Soiling shows it was heavily used in a humid area (likely Vietnam). This version has the slanted belt loops like most known CISO pouches as well as the metal rings for the detachable sling (missing in this example). Features of this pouch are similar to the example shown here: https://advisors.link/vietnam/early-cia-pouch/.
Snap and Marking:

Snap has an "M" with a line over it. "K" is hand-written with a permanent marker, perhaps a reference to the Swedish K submachine gun?
Open: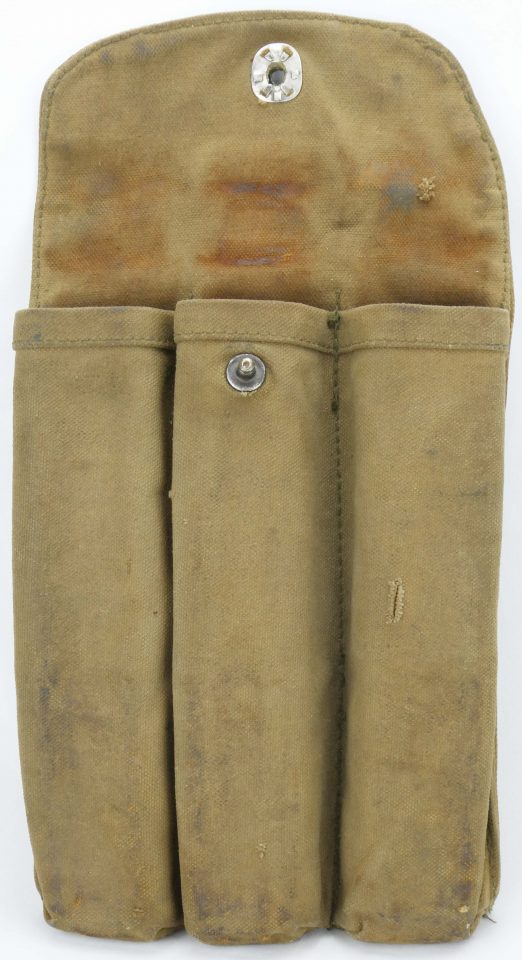 Magazines were previously stored in this pouch.
Bottom: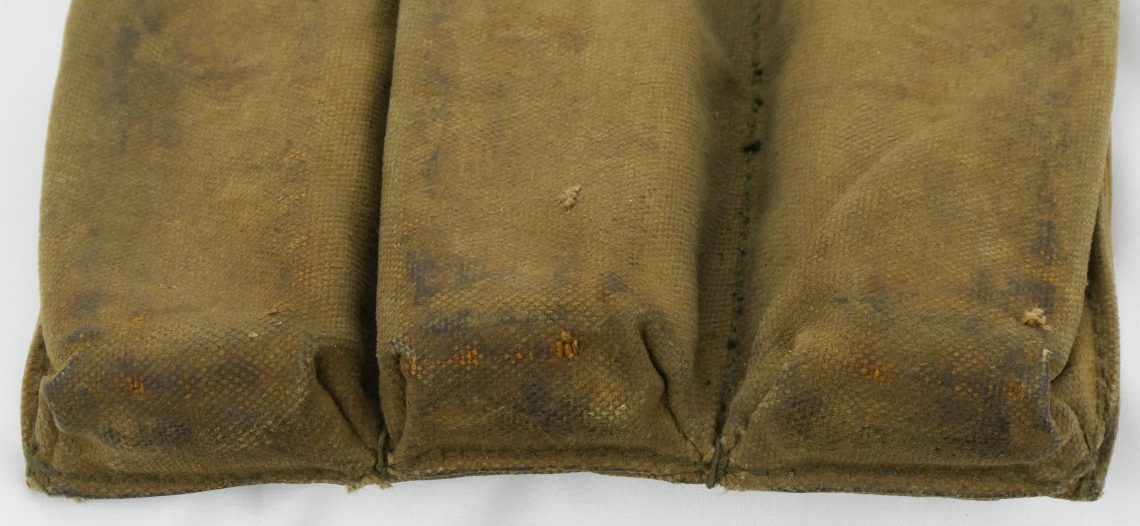 No drain holes.
Belt Loops: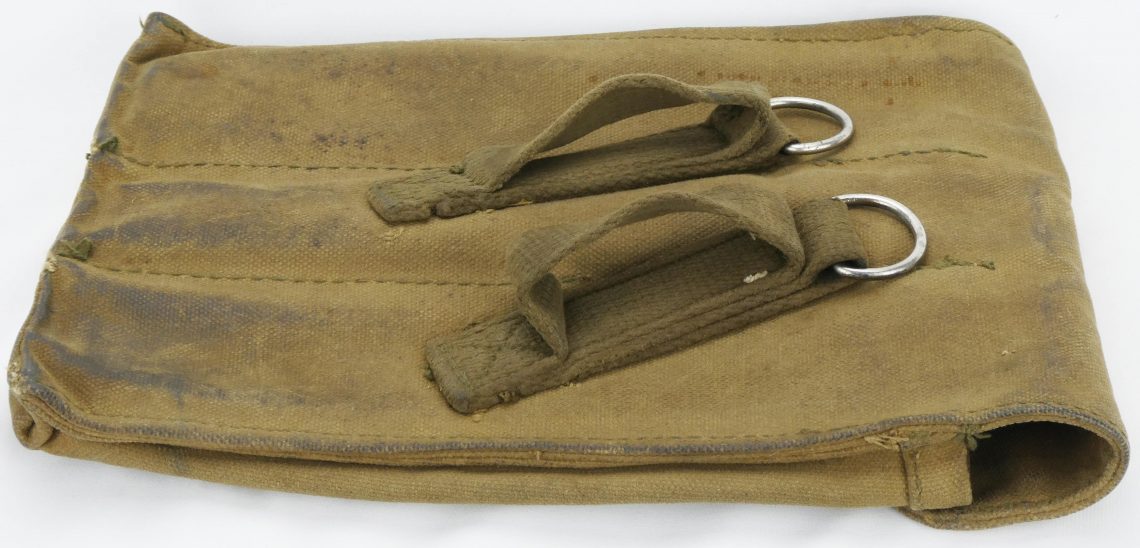 Usage Photos:
Tie Closure:
Tie Fasteners: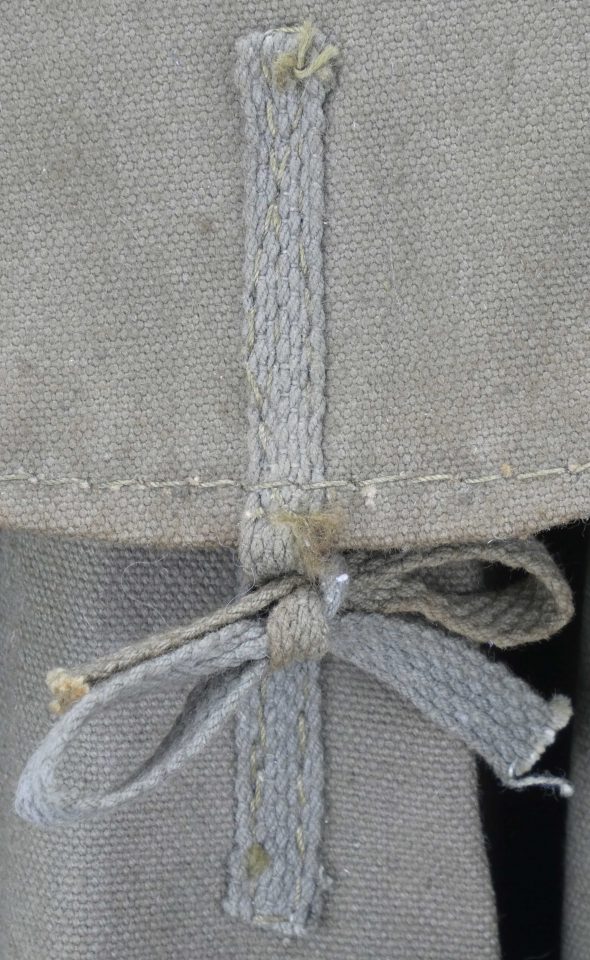 The flaps on this pouch are all secured by cords that must be tied together. While this was probably cheap and easy to produce, it would have been time consuming to secure compared to other fastener types like a leather tab, snaps, or buckle fasteners.
Open: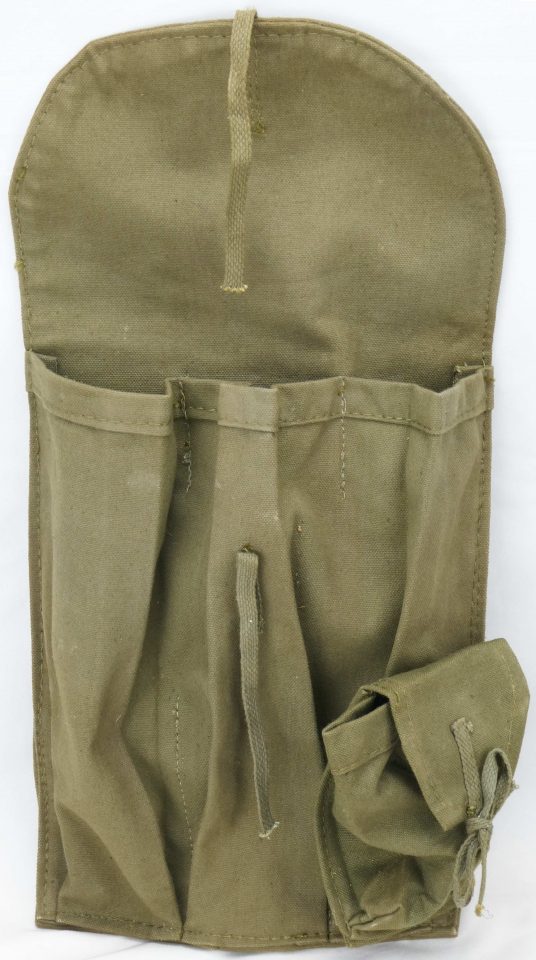 Note interrupted stitching on front where strap belt loops are on the back.
Small Pouch:
Other CISO bags have a similar small pouch on the side of the magazine pouches.
Strap:
Straps are attached to the main body so that they form loops that can be slipped over a belt. This feature was repeated in other CISO pouches.
Snap Closure:
Some of these pouches may have been used in Central America by the Contras in the 1980's (source: https://www.picuki.com/media/2709068294537601985).
Open: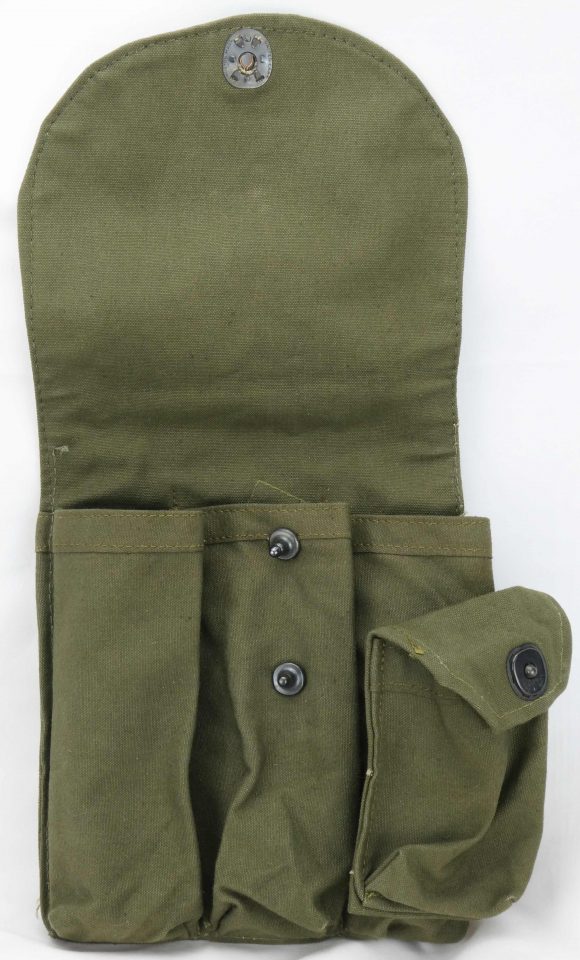 Side Pouch:
Back Strap:
Snaps:
US manufacturer marks on the lift the dot snaps.
Sewing Guide Mark:
CISO pouches consistently have poor sewing quality.
Tan Buckle:
Open: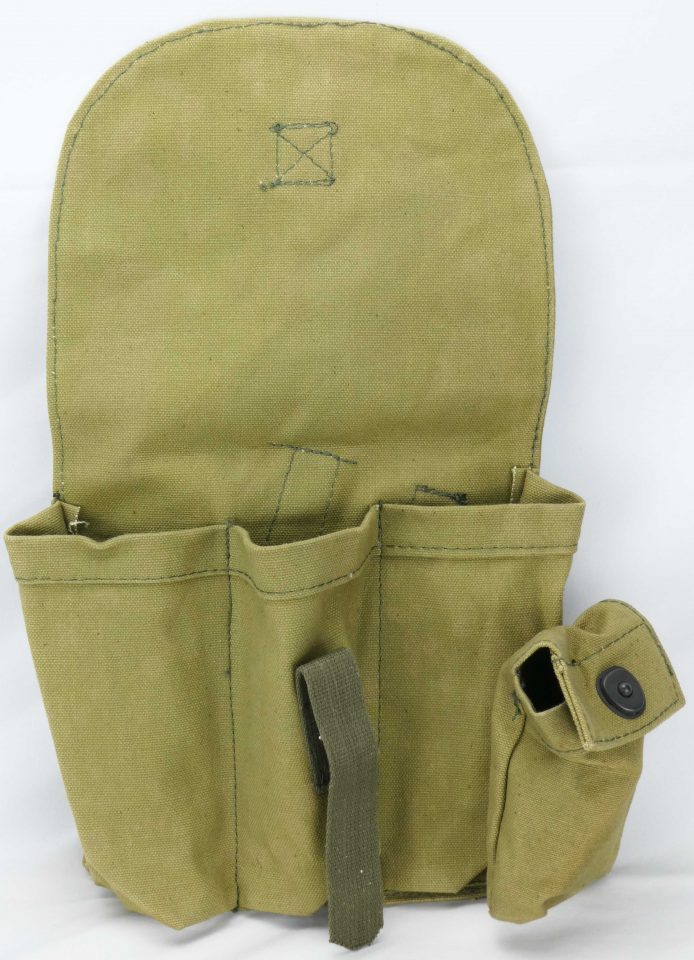 Main Flap Buckle:
Ladder buckle.
Side Pouch:
These consistently have unmarked snaps.
Back Pouch:
Possibly for a knife or a cleaning rod?
Back Strap Buckle: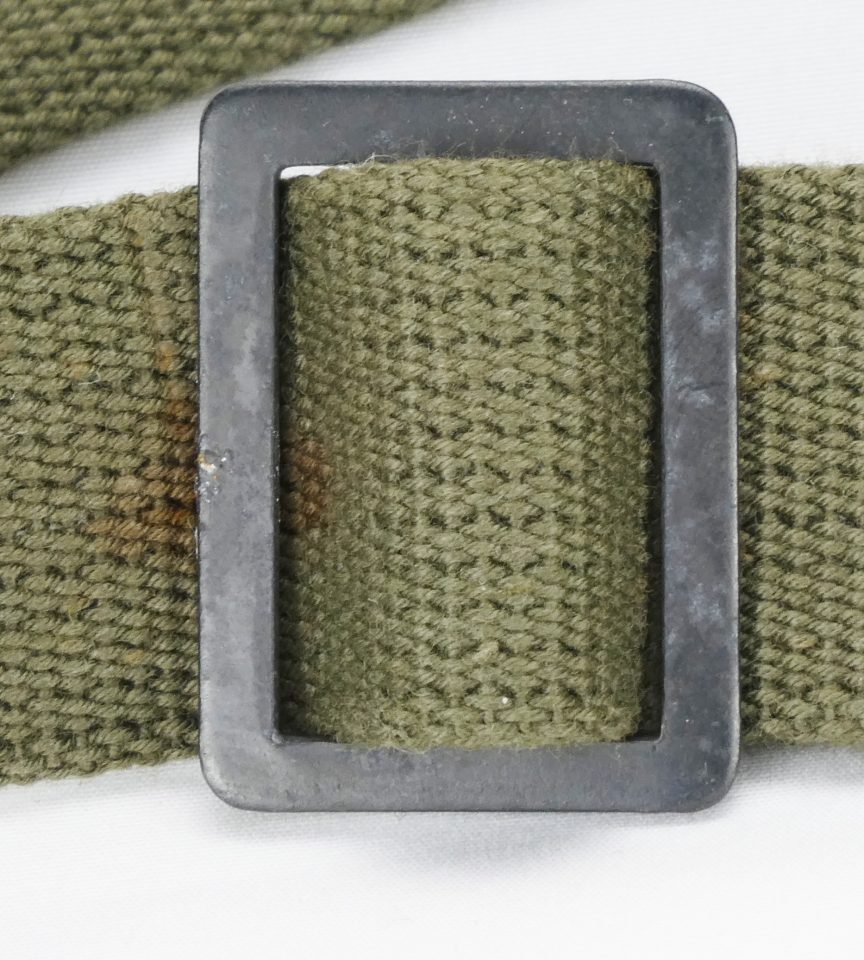 Green Buckle:
This example was made with fabric from two different dye lots so it has parts of different shades. Most examples are relatively homogeneous.
Opened: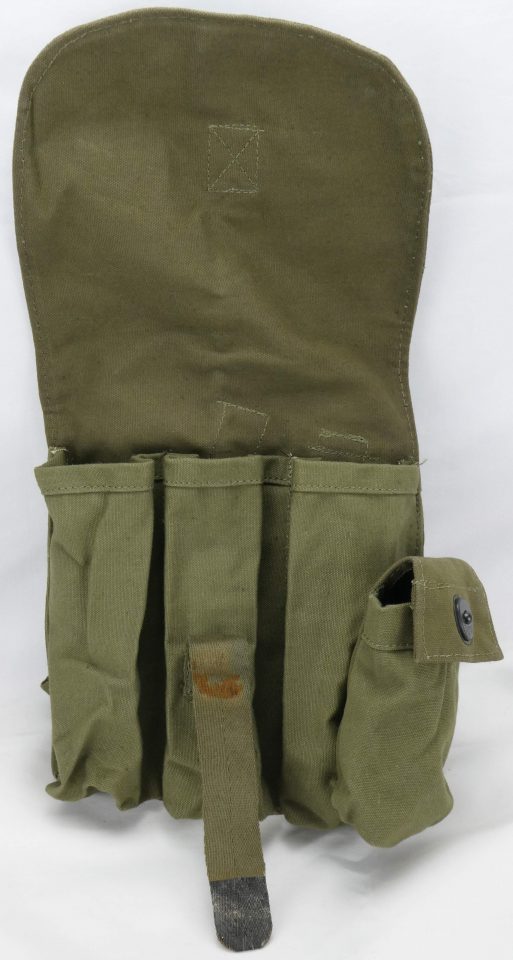 Side Pouch:
Back Pouch:
All snaps on this example are marked "Lift the Dot" fasteners.
Front Buckle:
Back Straps:
Uses similar dense cotton webbing material for straps as snap closure version, above.
Green Buckle vs Tan Buckle Comparisons:
Both share a similar layout of 3 cells for magazines, a side pouch, and a narrow pouch in the back, but the tan version is wider than the green version. Materials used are also different with the green buckle versions using more densely woven webbing for the straps with glue binding for the tips that is not present on its tan counterpart.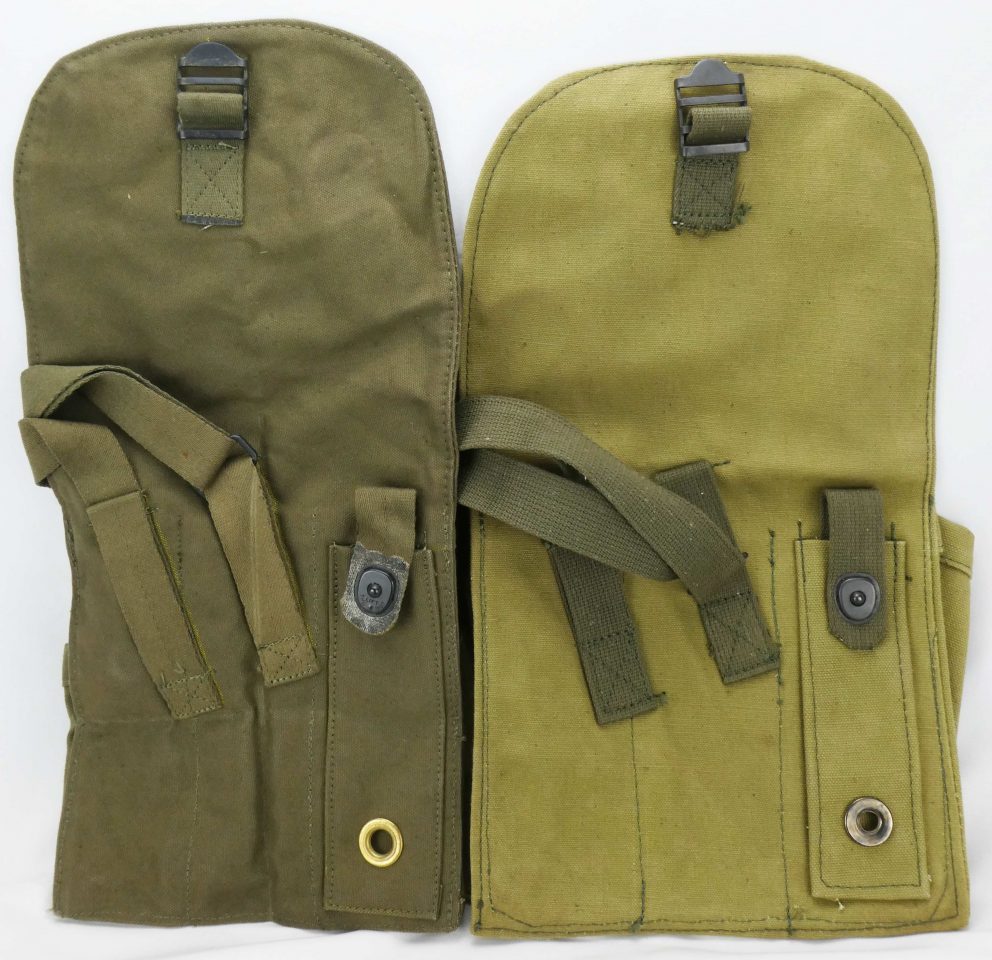 Due to the covert nature of the operations these pouches were intended for, very few usage photos of these pouches are available.
Usage Photo:
Operation Eagle Claw (1980):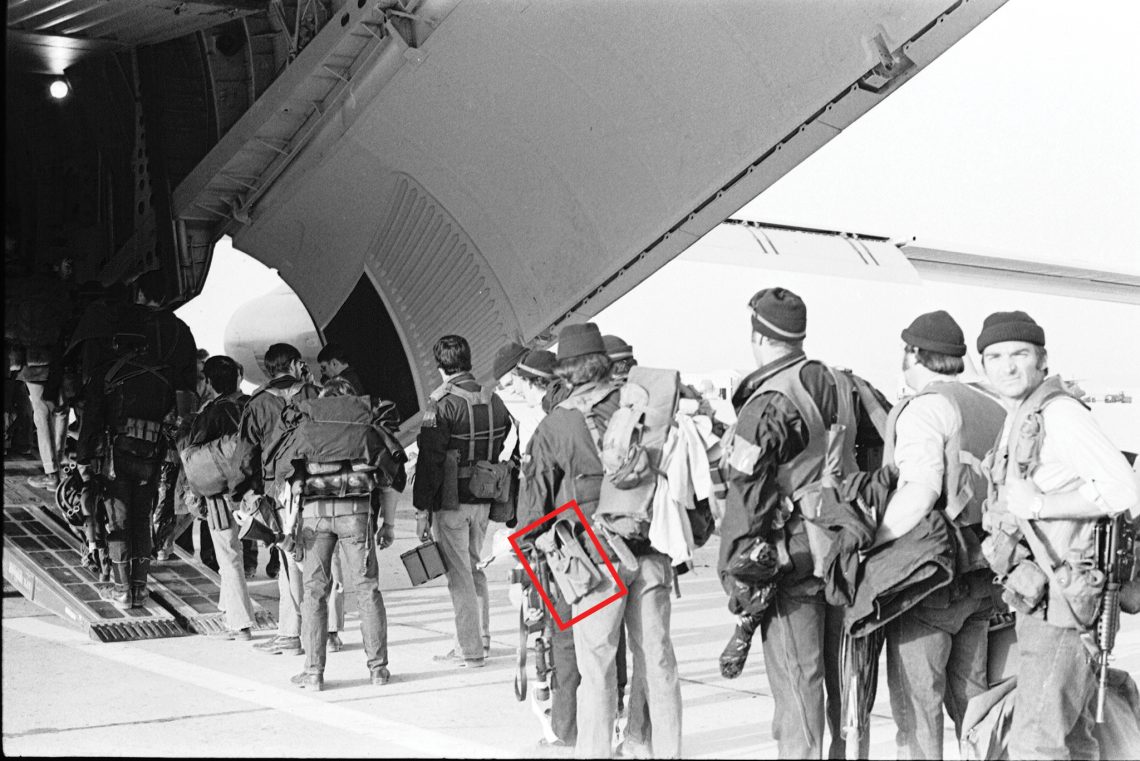 Outside of Vietnam, the buckle version was used by Delta Force in Operation Eagle Claw (Iran Hostage Rescue Mission) for M3 Grease Gun magazines (source: https://twitter.com/eightballshokai/status/1254017936949309440). The display from the recent Silent Warrior Foundation event focusing on Eagle Claw in June 2021 shows it was the green version.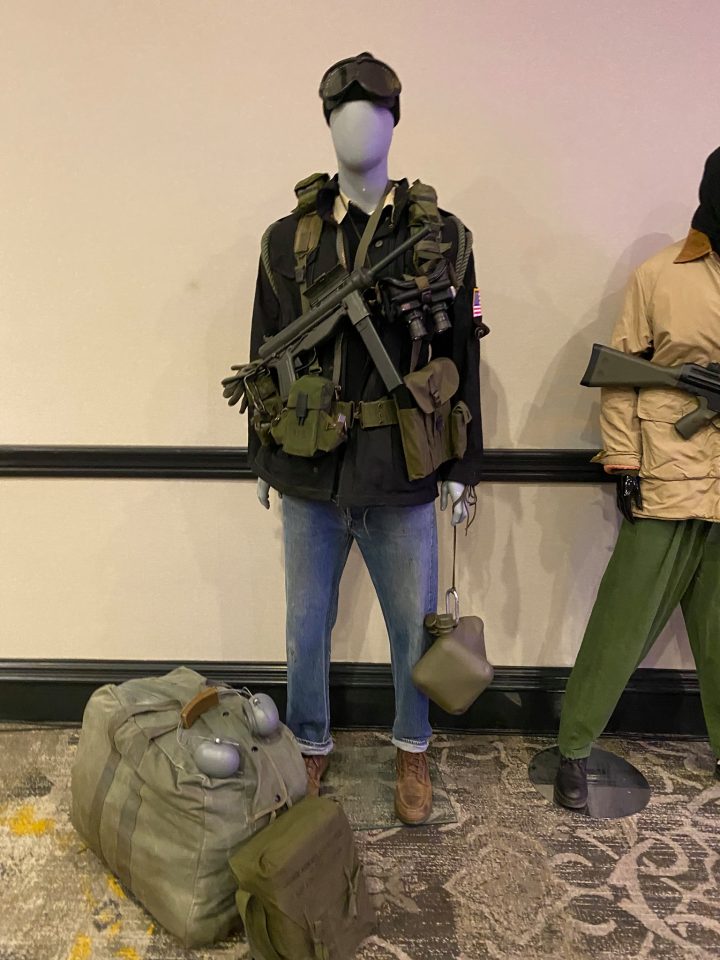 Same mannequin is shown here: https://www.instagram.com/p/CS3GttrPCxS/
Reproduction:
The pouch available at SARCO appears to be an older reproduction, likely made by Rothco (source: https://www.facebook.com/groups/1726441960963865/posts/3184378145170232/). SARCO claimed that they obtained some Olive Drab ones from Guatemala and the pouches could have been used in the Bay of Pigs invasion (source: https://www.sarcoinc.com/cia-contract-ordnance-pouches/). It is unknown why anyone would want to reproduce these pouches until very recently because they are relatively obscure and were cheaply available for decades after the Vietnam War (source: https://www.usmilitariaforum.com/forums/index.php?/topic/218928-photo-of-a-sterile-mag-pouch-in-use-in-vietnam/).
Back Strap: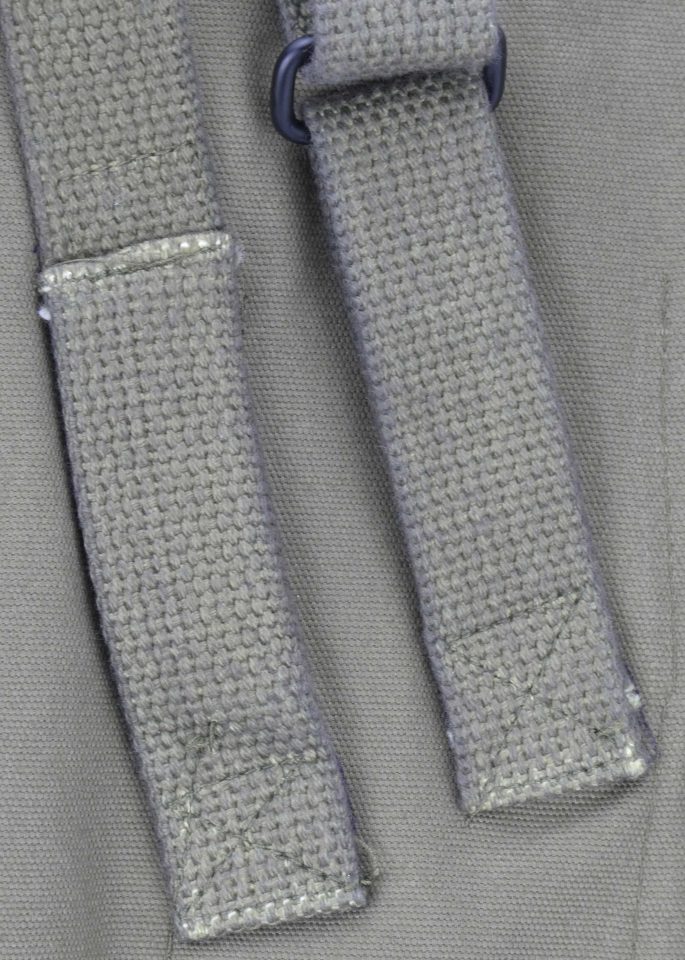 Side Pouch:
Back Pouch: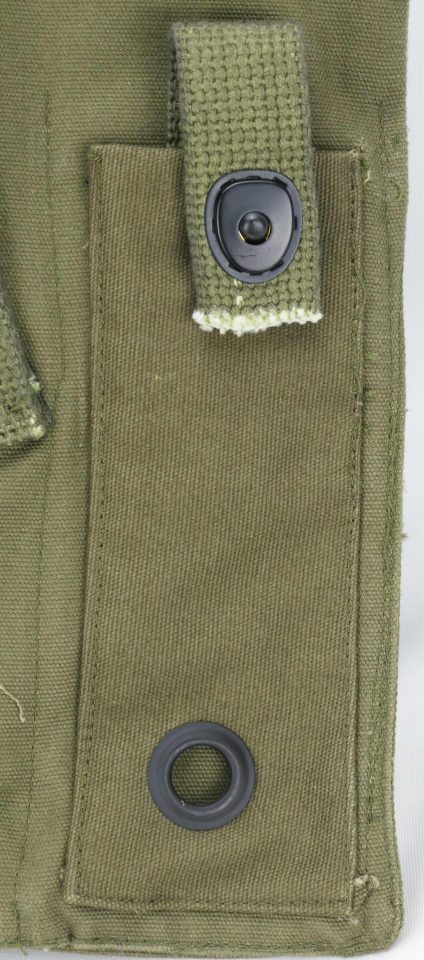 Front Pouch Stitching:

Material Comparison with Original: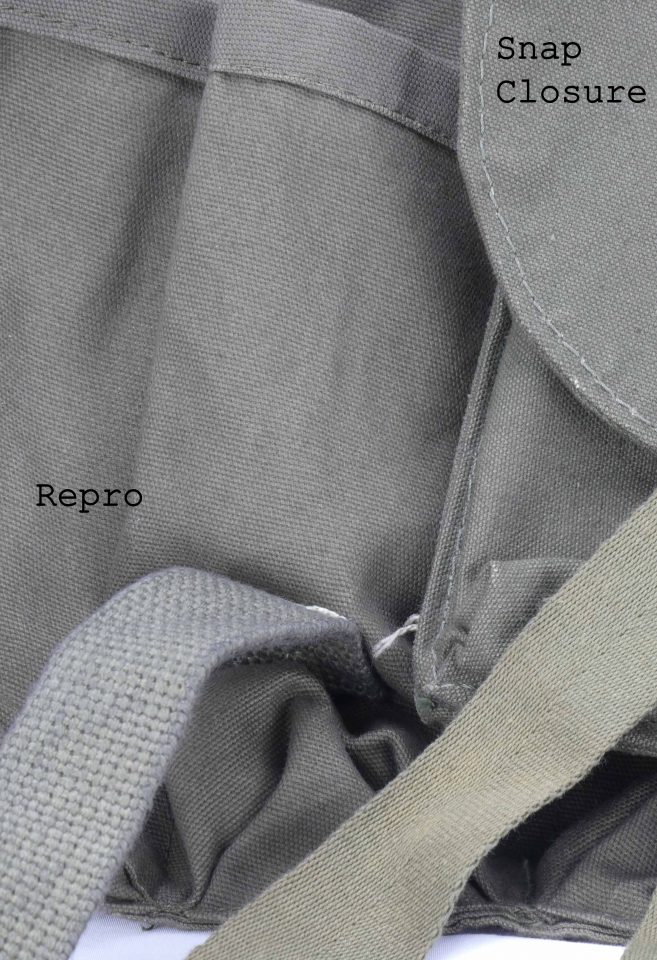 While it uses similar metal hardware, the canvas fabric is much softer than any of the real items. Webbing material for the straps is also more loosely woven than the real examples. It also lacks the "glue" binding for the edges on the original green buckle version.