The Tanzanian DPM is a version of the DPM pattern trialed and not accepted by the Canadian military in the 1970's. The black has a "salt and pepper" effect, unlike the solid colors in the British example. The real uniforms in this pattern were supposedly used by insurgents fighting against the SADF in the Border War (source: https://www.tapatalk.com/groups/canadiansoldiers/canadian-trials-dpm-combat-uniform-t2129.html?amp=1).
Recce Airborne Smock
Thin fabric, in "Recce airborne smock" cut that resembles the US M65.
Pockets:
Internal Pocket: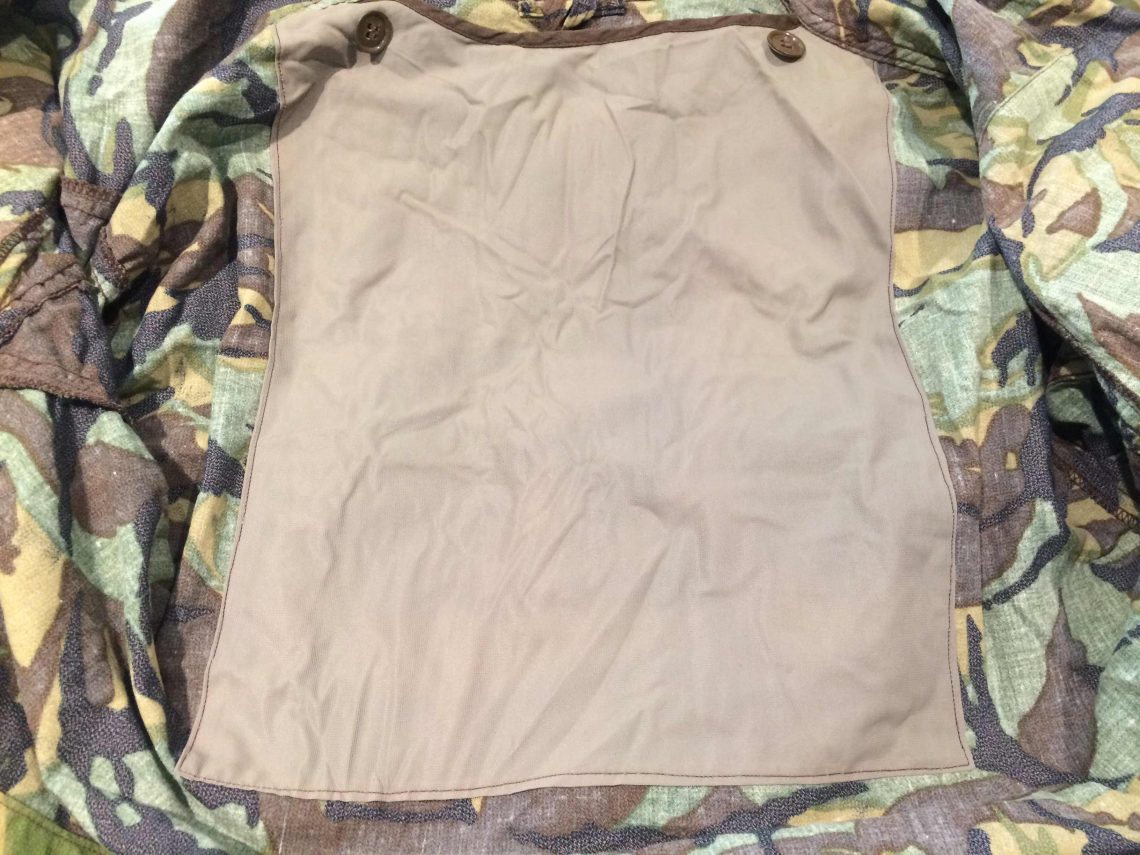 Mesh-like synthetic internal pocket on the inside of the back is to hold an attached hood that was cut off in this paricular example.
Tag: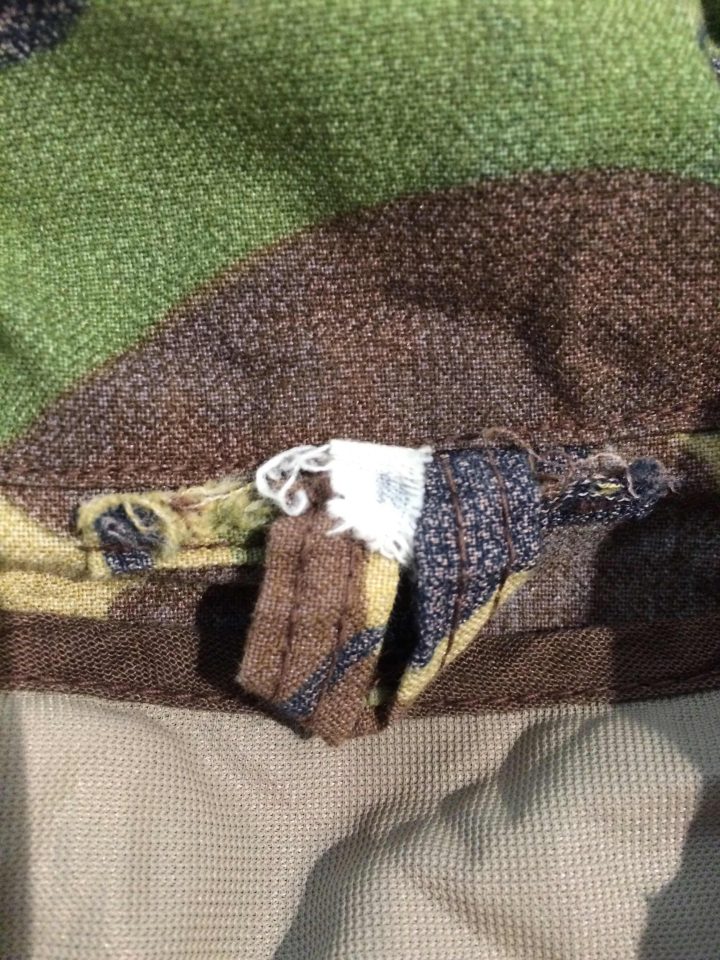 This is the only marking on this item. Like most Recce Copy Project items, it has minimal markings.
Zippers: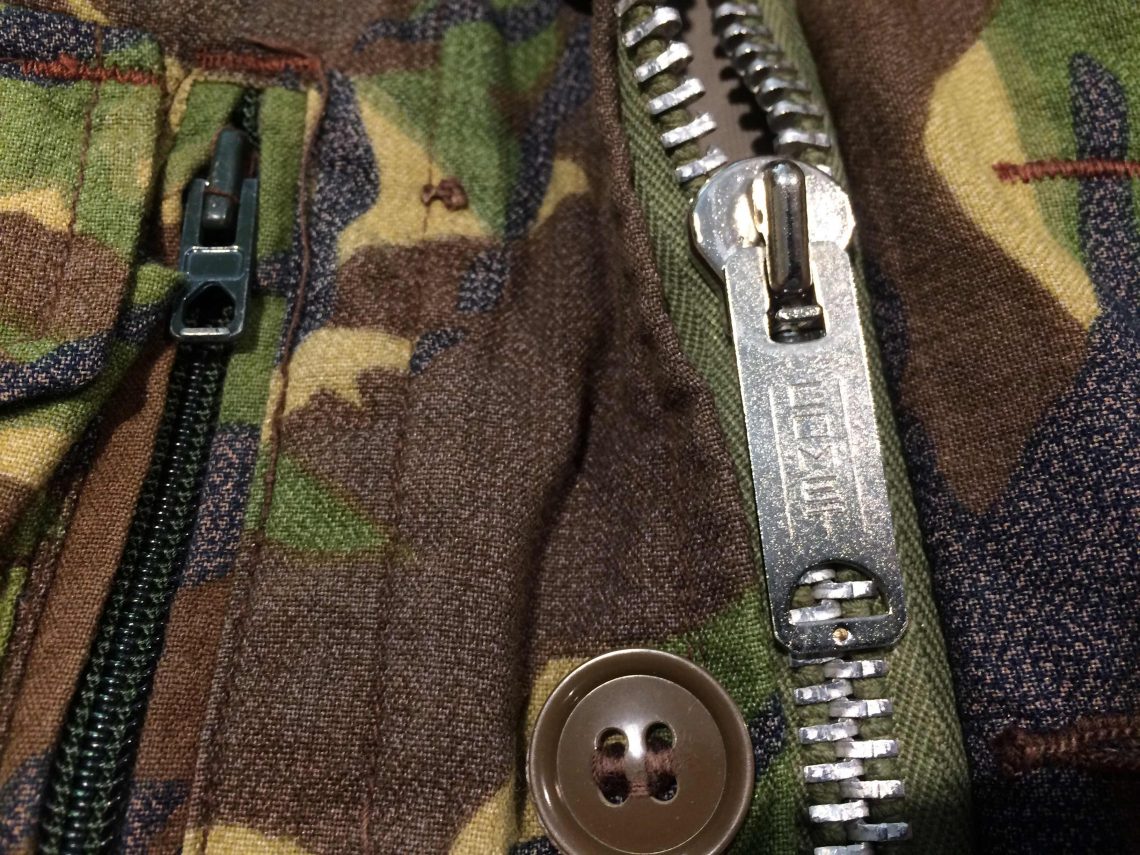 Cuffs: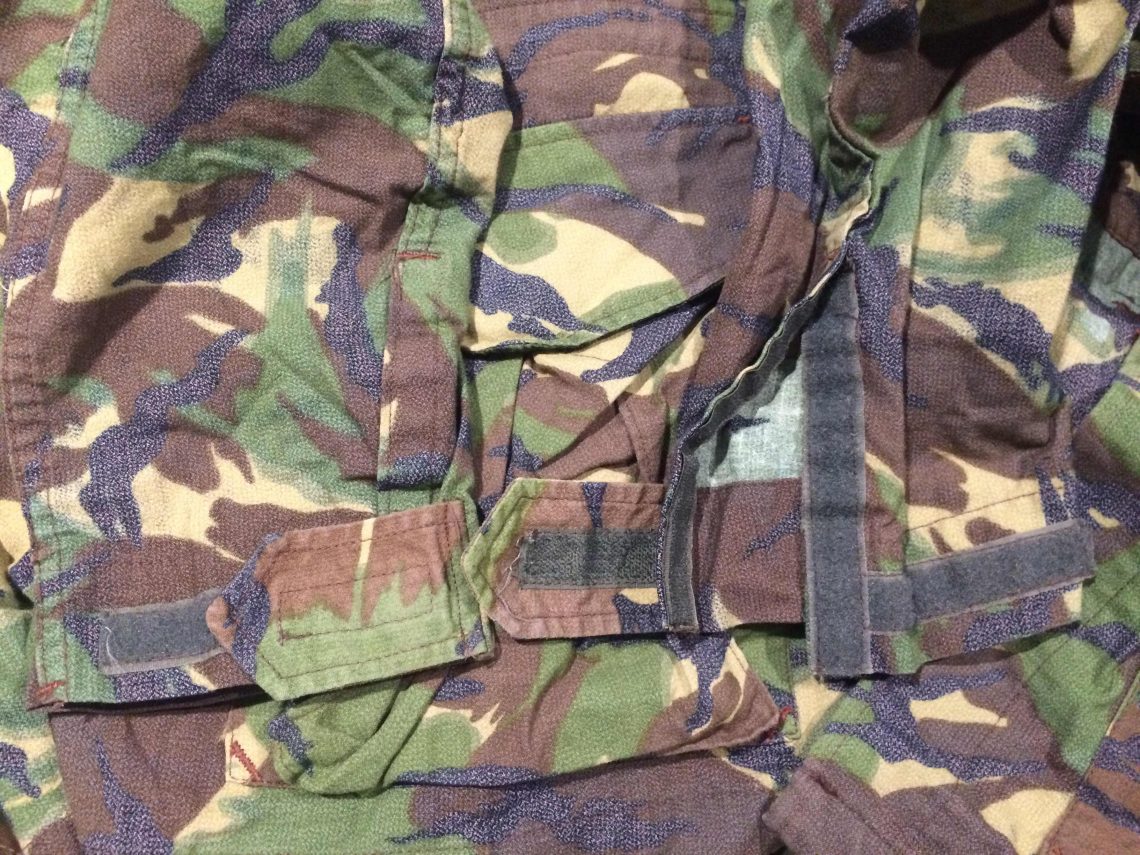 Velcro material.
Buttons: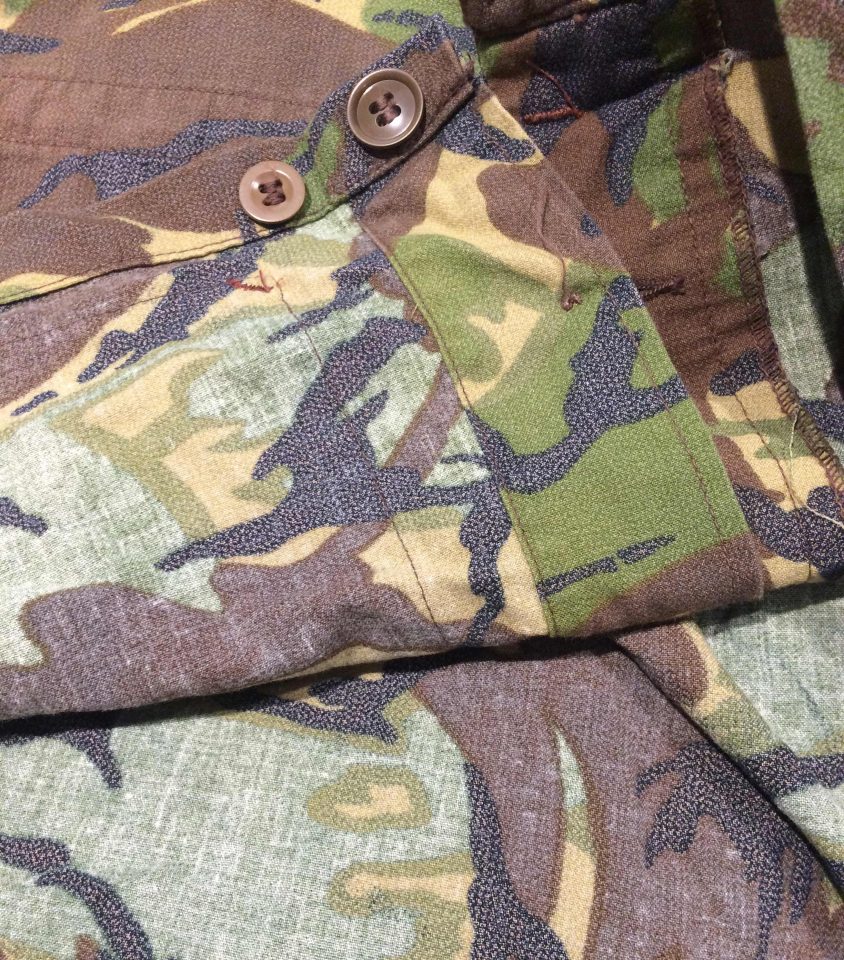 Canadian Cut
Jacket:
This jacket is in the Canadian cut with the narrow slanted upper pockets. The cut is slimmer than the Airborne Smock described above.
Tags:

Only a small size tag remains. There was another paper one at the collar that is now gone.
Buttons:
Buttons are the slotted Canadian type that were optimized for manipulation with gloves in cold weather. These have seam lines and appear to be somewhat crudely casted copies of the original.
Large Buttons were used on the pockets.
Small buttons were used elsewhere.
There is a small burned-through hole near all the pocket buttons on this particular example.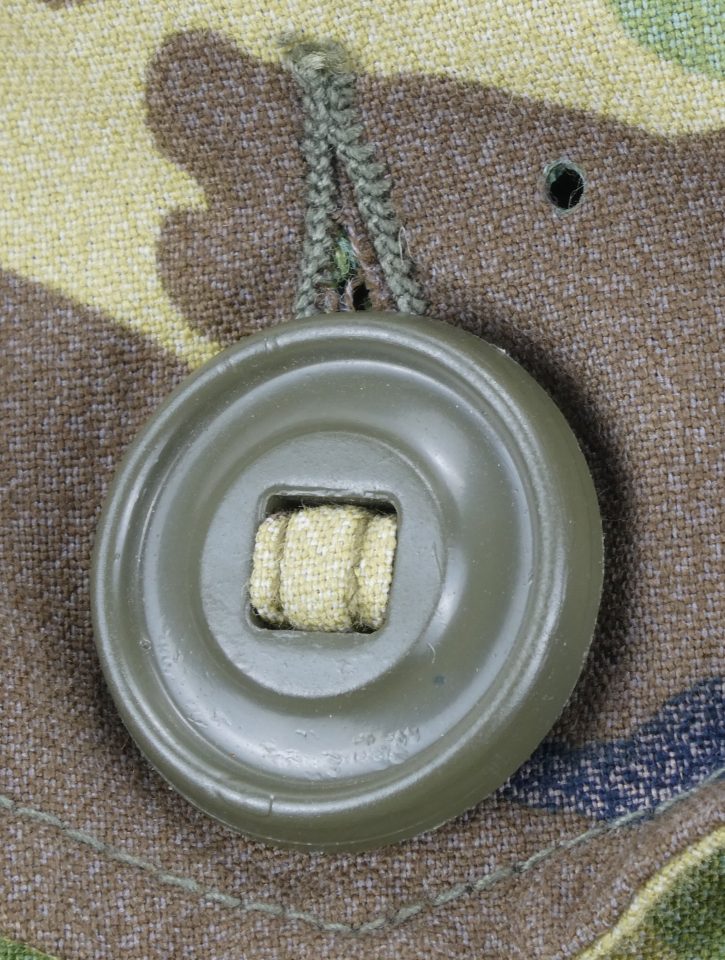 Pockets:
Lower pockets have a magazine retaining pockets inside.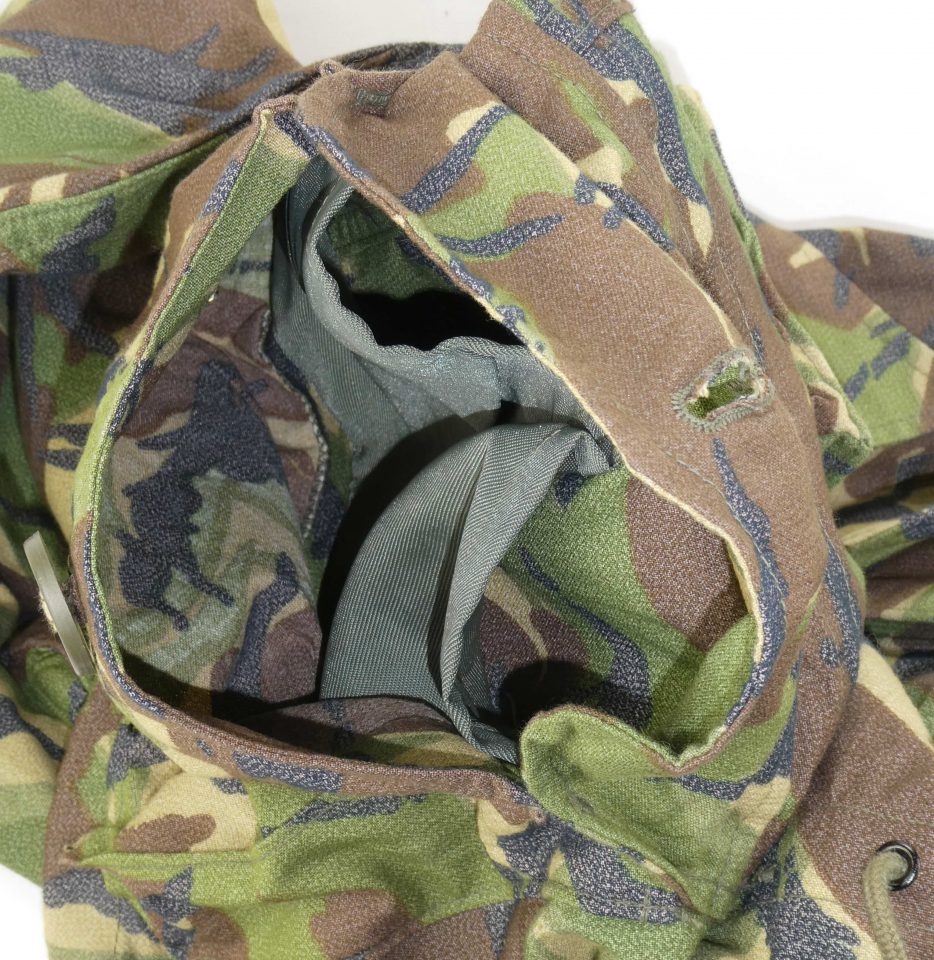 Internal Pocket: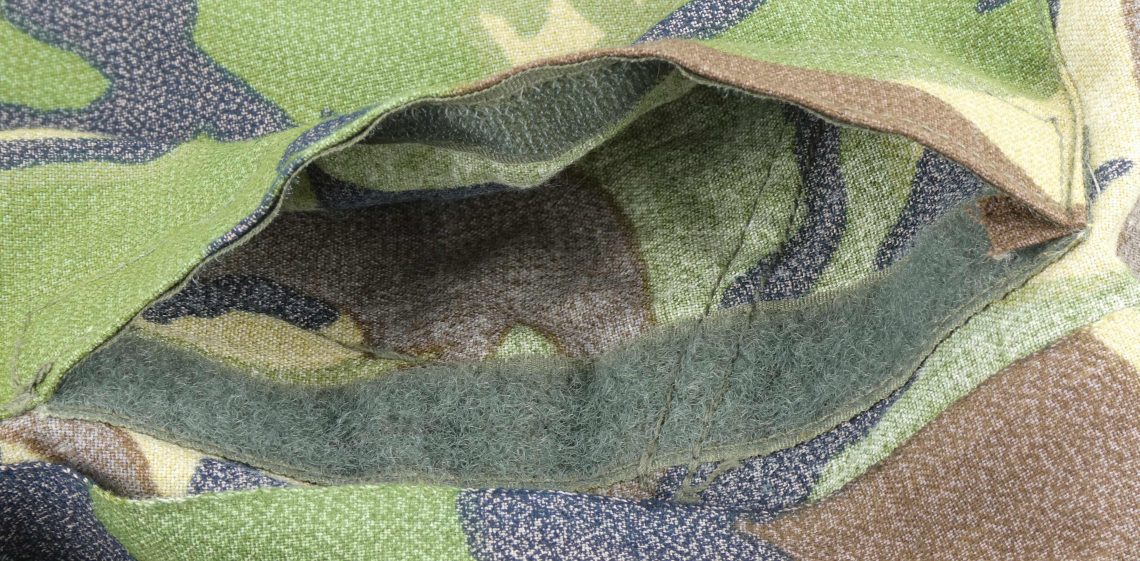 On the left side, as worn. This was closed with a green-blue velcro similar to the one used on the Airborne Smock above.
Inside: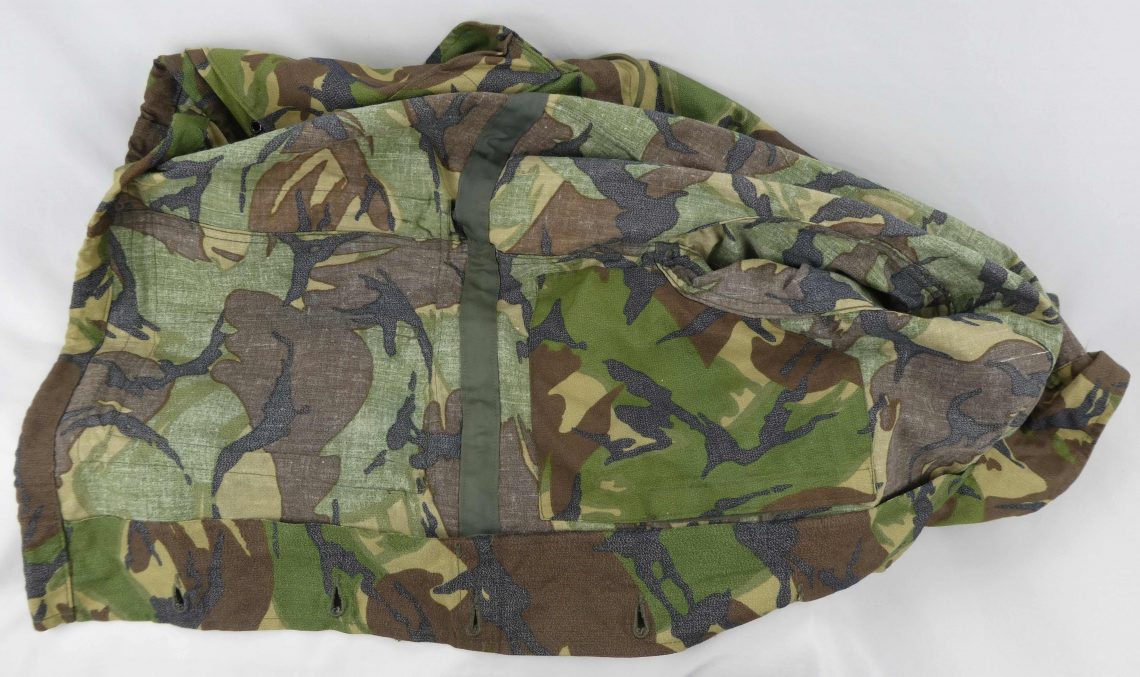 Draw String: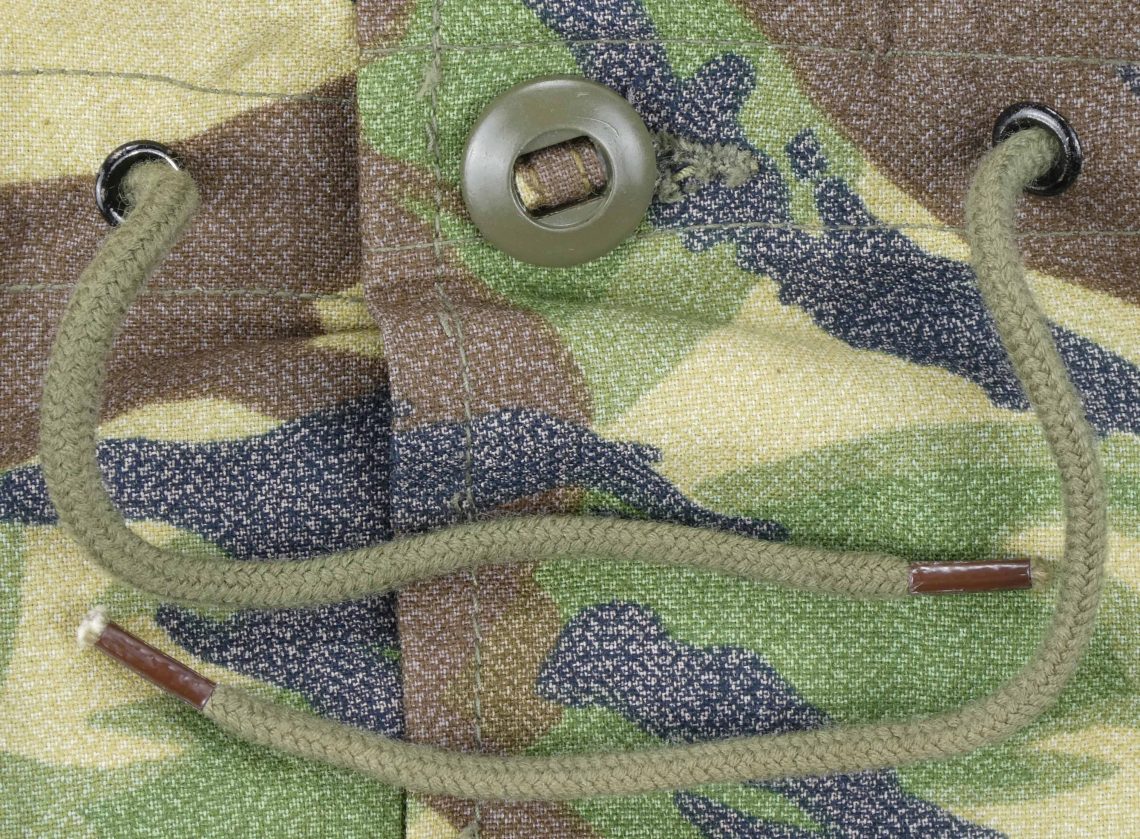 Cinching drawstrings at the waist and bottom of the jacket.
Trousers:
No tag remnants. Trousers have been worn and repaired.
Large Buttons:
Large buttons were used on the pockets. Slotted Canadian style buttons, like jacket, with rough "mold line" in the center.
Small Buttons:
Small buttons were used for pocket closures and at waistband.
One button had fallen off and was repaired with thread: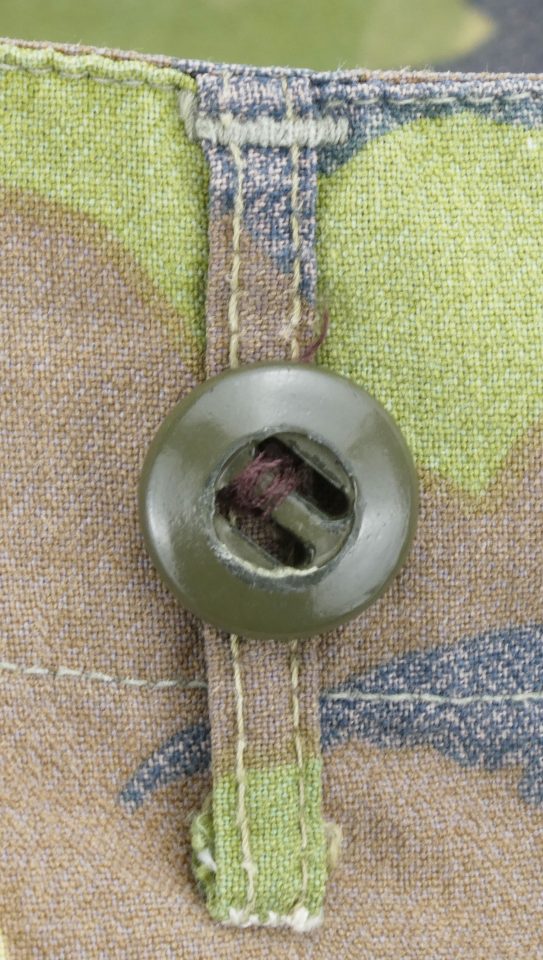 Waist Pockets: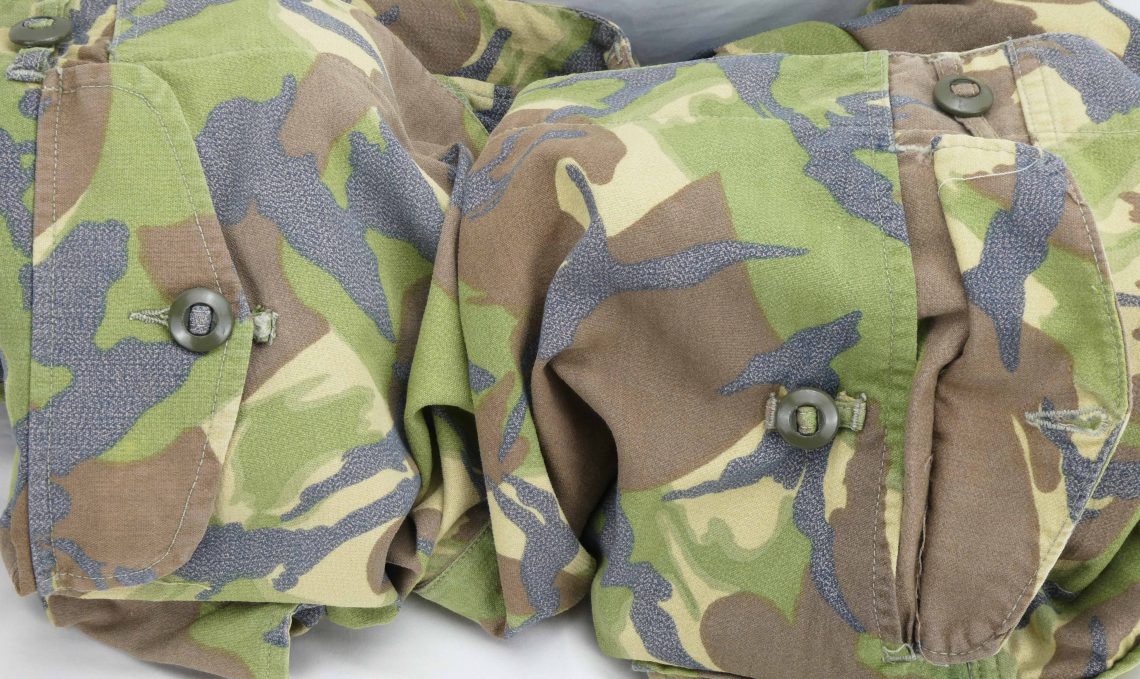 Thigh Pocket:
Thigh pocket folds over itself at top. Has grommeted drain holes on bottom.
Back Pocket:
Zipper: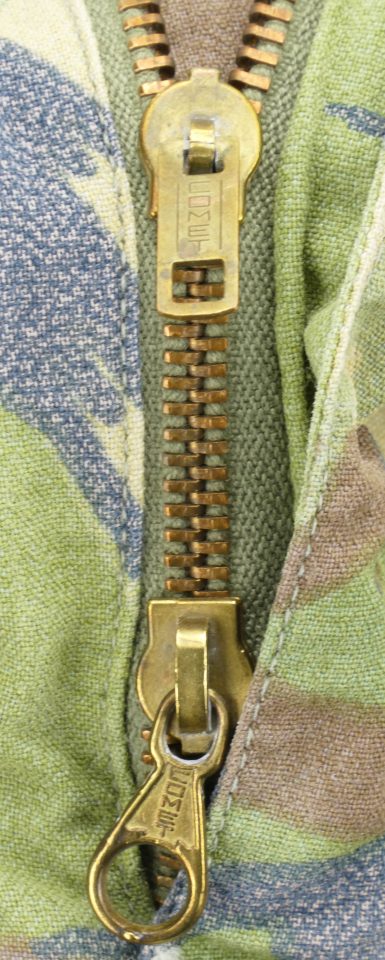 2-sided "Comet" marked zipper also opens from bottom.
Inside: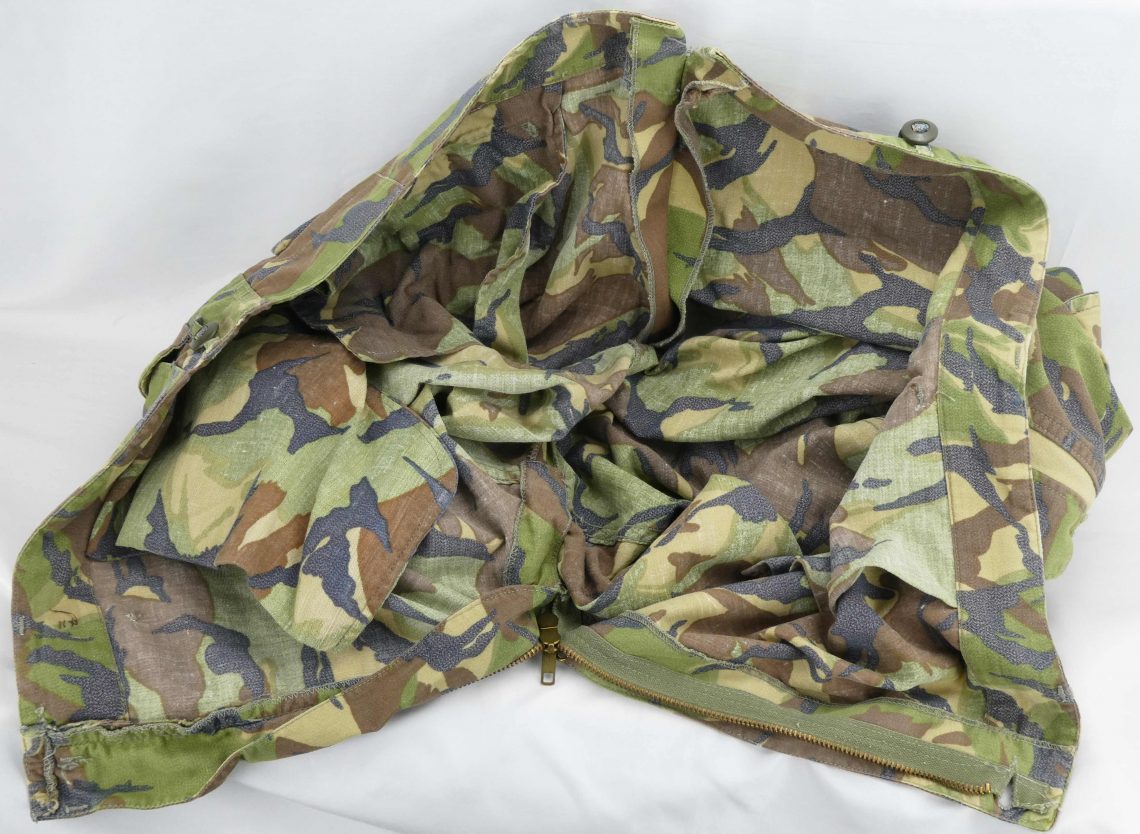 Ankles:
Grommets might have been for drawstring.
Usage Photos: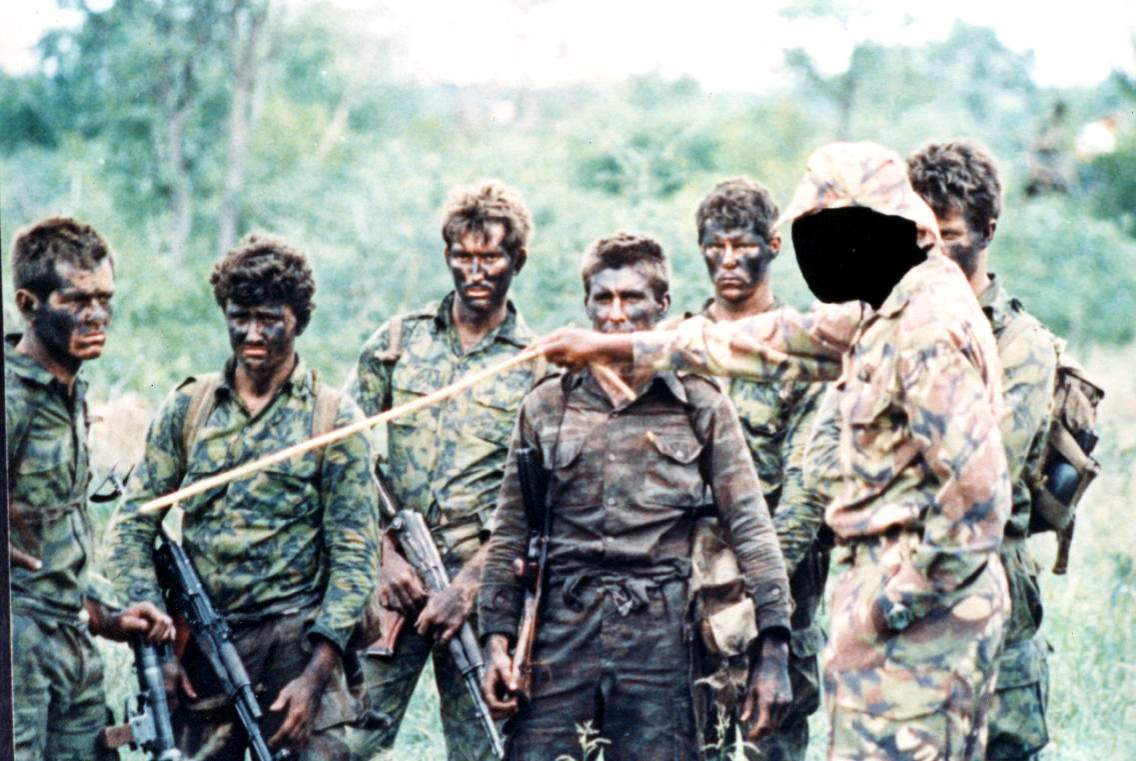 There is a photo of the Canadian cut jacket being worn by 4 Recce in a submarine during Operation Mahonia (1984), one of the final clandestine resupply missions to RENAMO in Mozambique on Page "X" (photo plate pages) of the book Iron Fist from the Sea.