The PCU (Protective Combat Uniform) is a scalable all weather clothing system meant to accommodate a wide range of inclement weather conditions.  The Level 5 parts of the PCU are the most versatile layers and are meant to be nearly general purpose.  While the Level 5 softshells are water resistant, they are not impermeable since they are intended to allow the wearer some ventilation ("breathe") for comfort.  This breathability also allows them to be dried quickly especially when body heat is involved to encourage evaporation.  For more information on the PCU system: https://www.itstactical.com/gearcom/apparel/comprehensive-guide-protective-combat-uniform/
Orc Industries:
Jacket:
Orc Industries was the original manufacturer for the PCU system; this is the earliest PCU design I know of.  Fabric is coated with water repellent DWR treatment: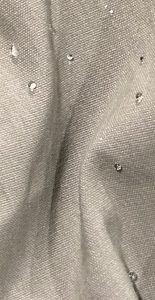 Patagonia:
Jacket 1:
Patagonia has the current (as of 2018) government contract for PCUs.
Jacket 2:
2006 date.
Trousers:
Comparison of Orc and Patagonia Materials: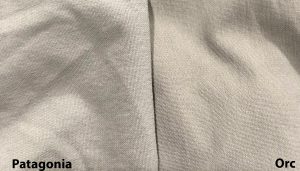 Patagonia trousers were used for this photo.