The PCU (Protective Combat Uniform) is a scalable all weather clothing system meant to accommodate a wide range of inclement weather conditions. The Level 5 parts of the PCU are the most versatile layers and are meant to be nearly general purpose. While the Level 5 softshells are water resistant, they are not impermeable since they are intended to allow the wearer some ventilation ("breathe") for comfort. This breathability also allows them to be dried quickly, especially when body heat is involved to encourage evaporation.
For more information on the PCU system: https://www.itstactical.com/gearcom/apparel/comprehensive-guide-protective-combat-uniform/
Orc Industries:
Jacket:
Orc Industries was the original manufacturer for the PCU system. This is the earliest PCU design I know of. The tag on this jacket is the later production version. Earlier ones have a black "Queen Anne's Revenge" (QAR) tag, named after the skeleton figure at the top that was supposedly the pirate Blackbeard's symbol:
EPIC fabric from NEXTEC (source: https://www.militarymorons.com/gear/clothes.2.html) has water repellent DWR treatment: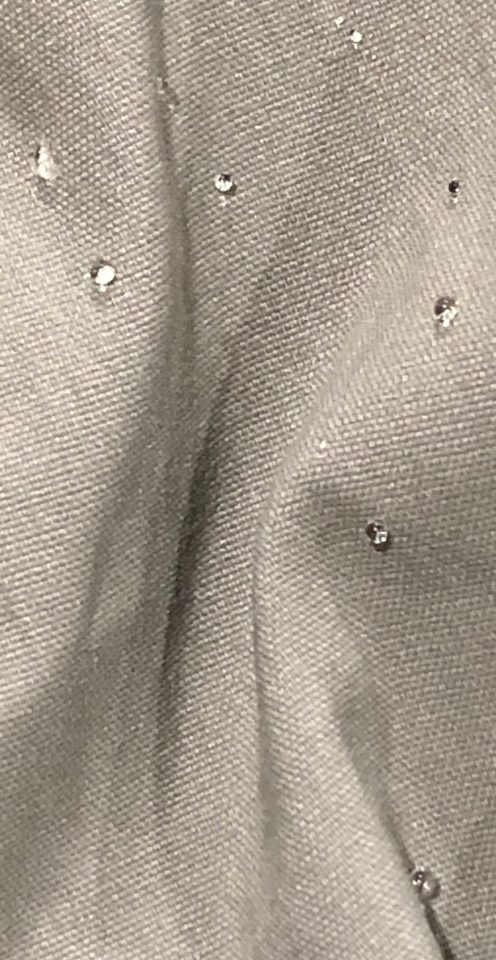 Darker velcro contrasts with Alpha Green (grey) color.
Rubberized zipper: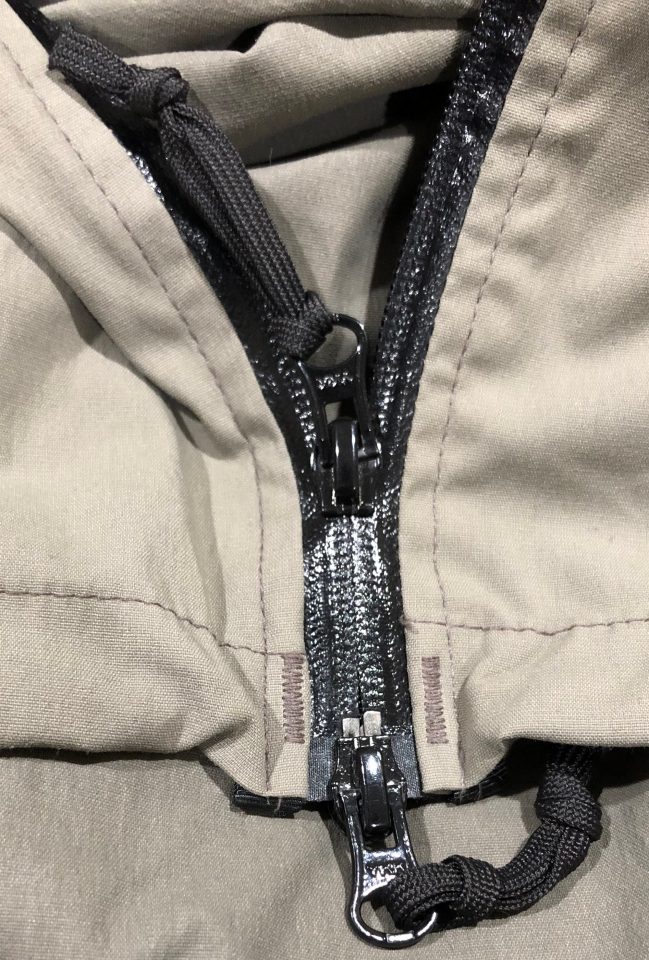 Patagonia:
The Patagonia design features a more modern cut that is similar to civilian ourdoors clothing. Specifically, Patagonia's PCU was based on their commercial MARS (Military Advanced Regulator System) line. The arm pockets are lower profile and close with zippers instead of flaps like the Orc example. The color of the zippers and velcro now matches the base fabric color. Patagonia has the current (as of 2018) government contract for PCUs, now also available in camouflage patterns like AOR1 and 2 and multicam (source: https://www.usaspending.gov/award/CONT_IDV_47QSWA19D0056_4732, Catalog formerly available at https://www.gsaadvantage.gov/ref_text/47QSWA19D0056/0VBSVU.3R25UL_47QSWA19D0056_LOSTARROWINC47QSWA19D0056.PDF).
For more information about Patagonia PCU development: https://soldiersystems.net/2018/05/16/the-lost-arrow-project-by-patagonia-military-alpine-recce-system-program-history/
Jacket 1:
Arm pockets: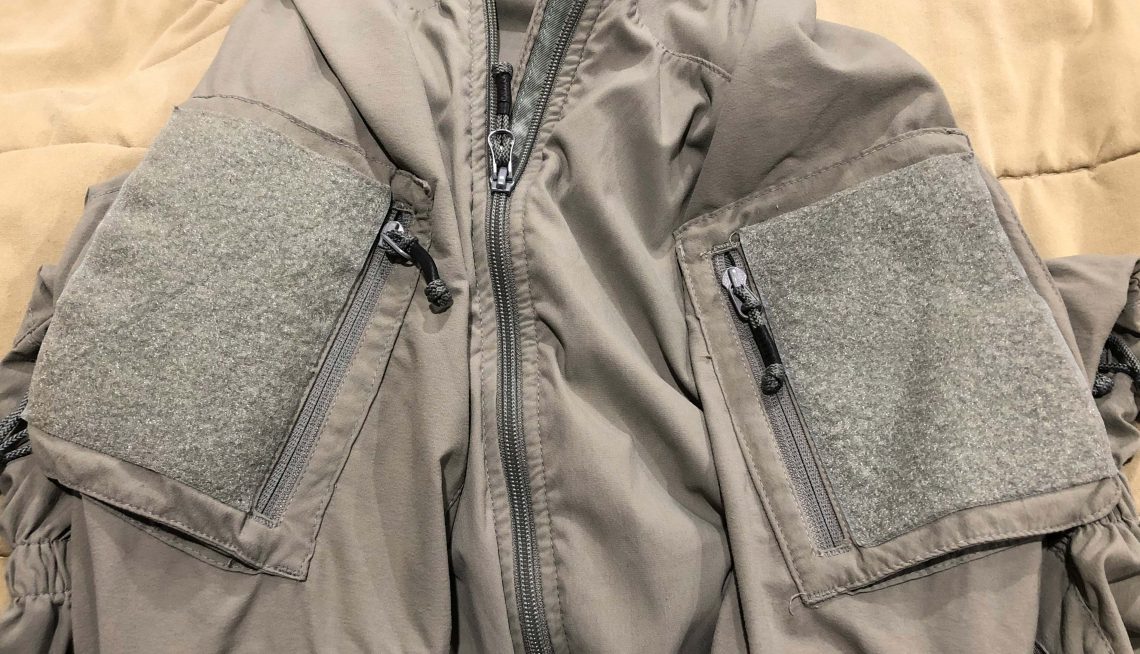 Tags have 2007 date.
Jacket 2:
Same as Jacket 1, but 2006 date.
Trousers:
2007 date on tags.
Metal snaps: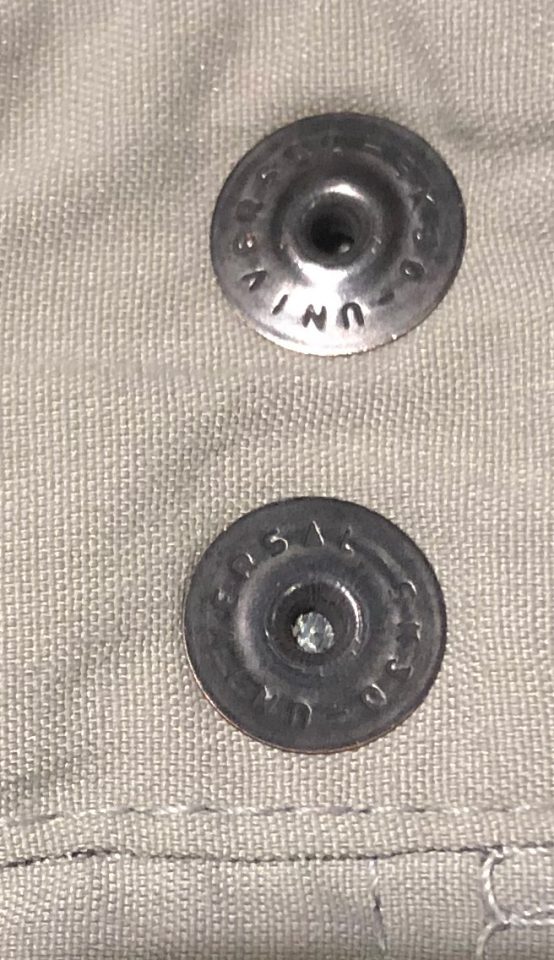 Ankle Cuffs: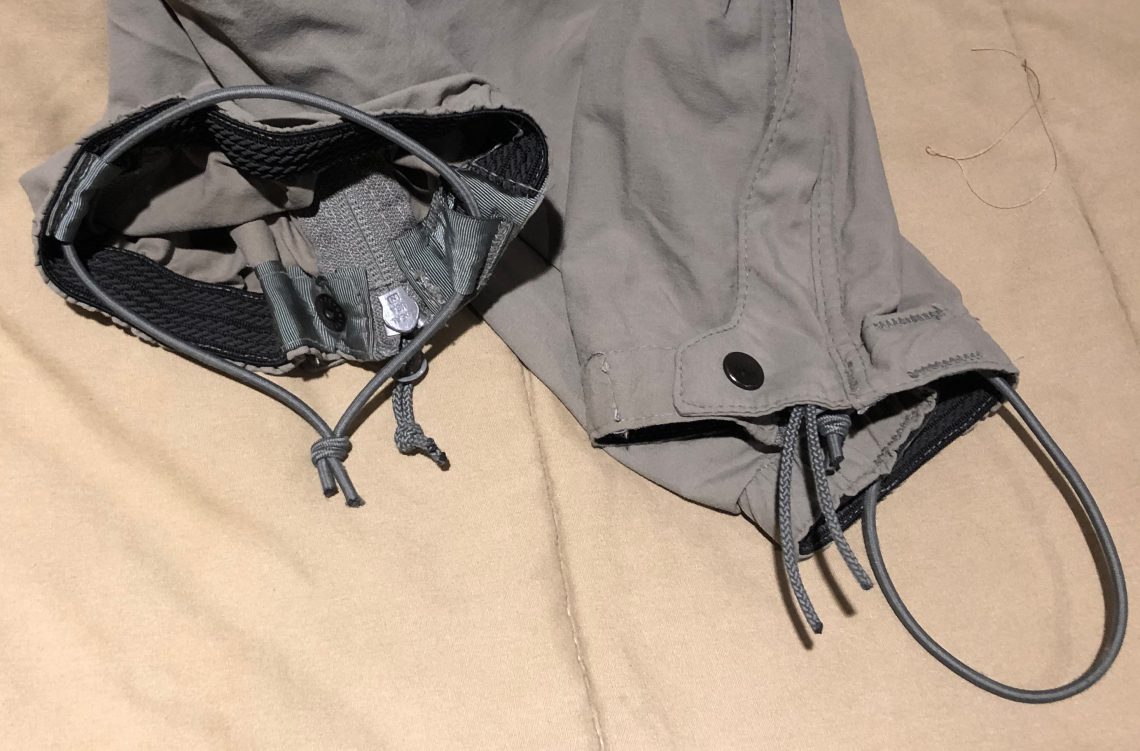 Side waist adjustments use a combination of velcro and zippers:
Elastic Suspenders: