Sample 1:
Very similar to Rhodesian version, but thicker canvas and much more padding around shoulders. Pouch closures are wood toggle loop, like chicom chest rig. These vests were used before the nylon Niemoller equipment.
This vest was very similar to the one used by 32 Battalion from 1979 – 1981: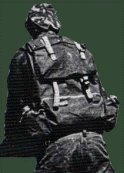 From http://www.32battalion.net/32%20Battalion%20Equipment.htm
Usage Photos:
Vest seems to have been more commonly used by 31BN (Bushmen) of SWATF (South West Africa Territorial Force).
Second person on right from front has a vest with a similar toggle closure on back.
Comparison with Rhodesian Predecessor: