Britain developed the Denison smock in 1941 as specialized clothing for paratroopers. The smock was designed to be loose and baggy for enhanced ventilation and camouflage. They were reportedly named after Major Mervyn Denison (often spelled as "Dennison" in records like https://www.pegasusarchive.org/arnhem/mervyn_dennison.htm), who was supposedly assigned to a camouflage unit commanded by the designer Oliver Messel (source: https://www.camopedia.org/index.php?title=Denison_smock, https://books.google.com/books?id=JBGkAgAAQBAJ&pg=PA427&lpg=PA427&dq=Oliver+Messel+denison+smock&redir_esc=y#v=onepage&q=Oliver%20Messel%20denison%20smock&f=false); note that this information is unconfirmed by existing primary source records. Denison smocks were mainly issued and used by specialist units like paratroopers, commandos, OSS and SOE agents, and many others. It soon became a symbol of Britain's Parachute Regiment ("Paras") due to their widespread use of the garment.
The First Pattern smocks were most frequently issued and used during WW2, although the Second Pattern was produced towards the end. First Pattern smocks have knit cuffs with no button tab adjustment mechanism for the cuffs and most notably no snaps on the back to hold up the tail since it was expected to be tucked under the webbing or fastened.
The Denison smock was the original paratrooper smock that influenced a variety of other nation's post-WW2 designs, all cut oversized and many of which retained the crotch flap. These are featured on kommandopost.com:
The loose cut and 4 pocket layout with slanted upper pockets was clearly an inspiration to the British Combat Smocks that replaced the entire Denison series.
Collectors have described the type of camouflage pattern on this particular smock as "hand painted", although whether this was really the case is disputed due to the quantities of fabric required for wartime production and the existence of textile printing machines from pre-war industry that could have been re-used (source: https://www.facebook.com/groups/146583445964612/posts/966841617272120/).
Epaulettes: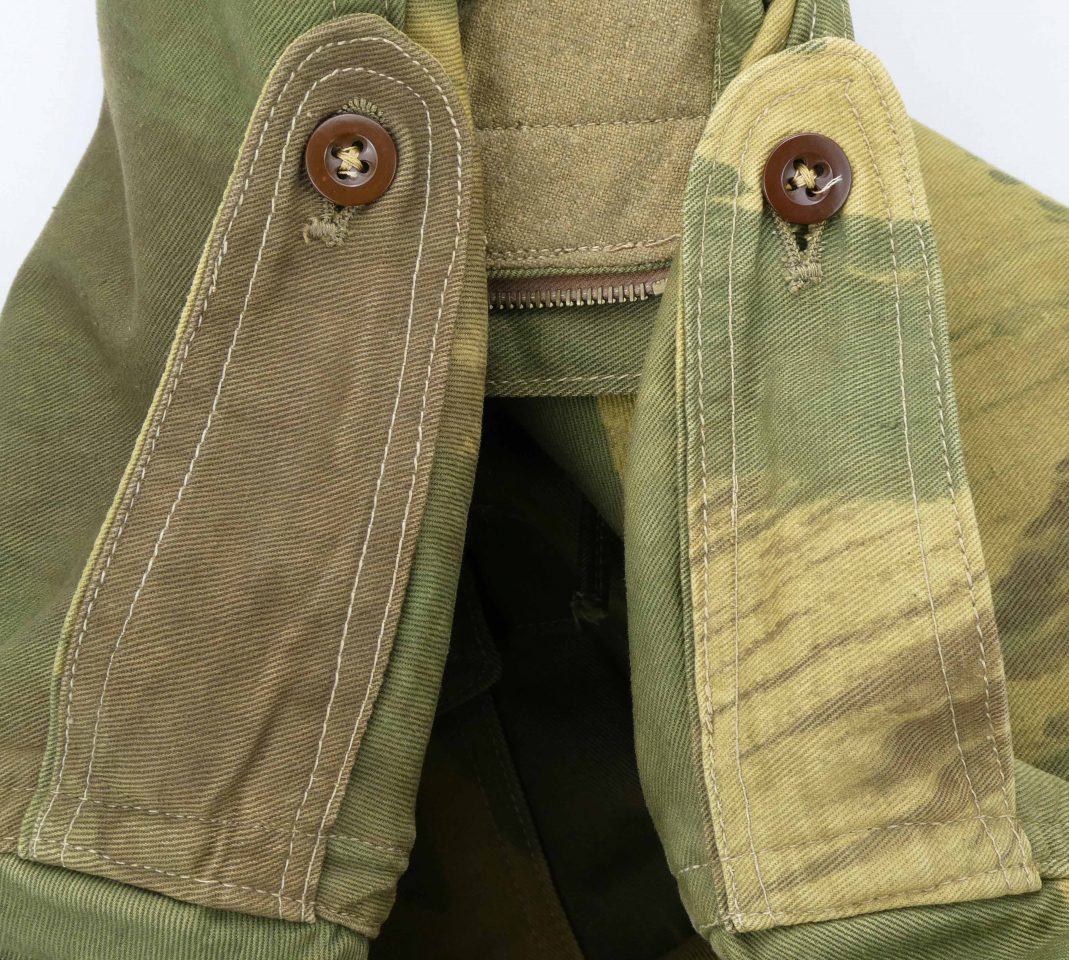 Brown bakelite buttons like 1943 P40 Battledress.
Armpits: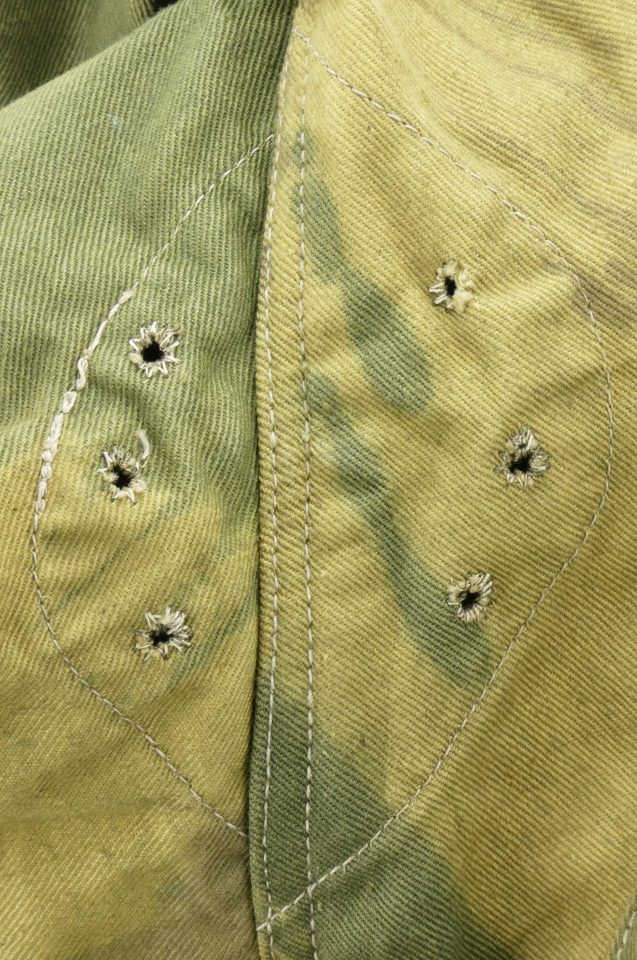 Vent holes are reinforced by stitching.
Pockets:
Snaps: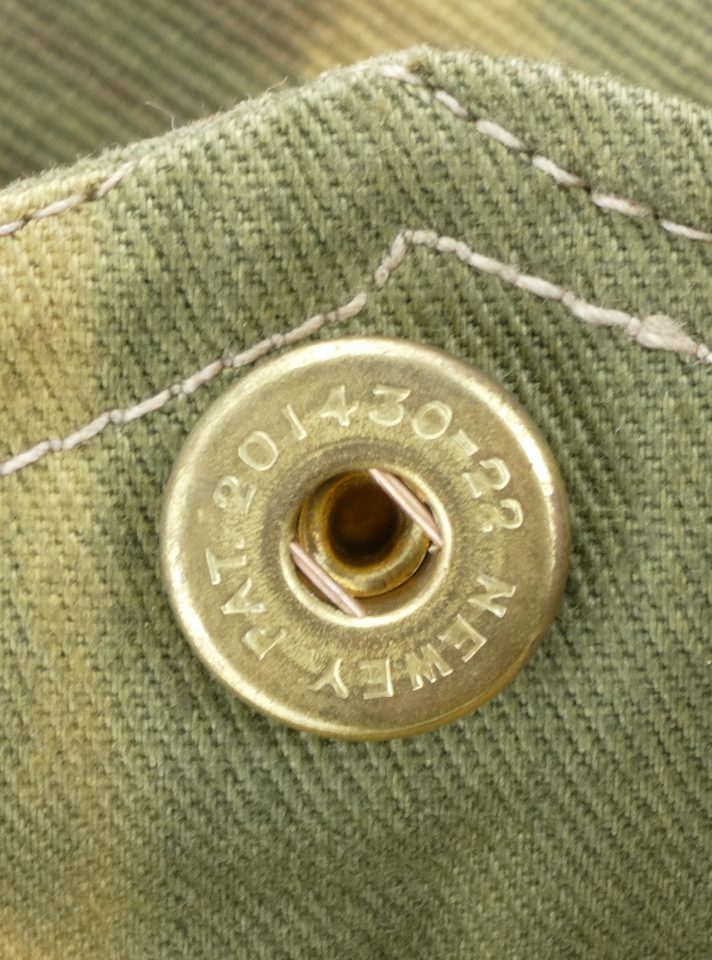 Brass snaps are a characteristic of WW2 produced smocks.
Collar:
Half zip design with internal pockets on either side.
Zip:
Crotch Flap and Panel:
The tail was intended to prevent the smock from riding up during the parachute descent. It was supposed to be fastened to the front panel or tucked underneath the webbing when worn, however some soldiers just let it hang, leading to North African locals to nickname British paratroopers "Men with Tails" (source: https://sergeanttombstoneshistory.wordpress.com/2018/07/23/men-with-tails-the-denison-smock/, cites the book A Drop Too Many by Major General John Frost, commanding officer of the 2nd Parachute Battalion during WW2). In practice, the smocks rarely rode up during jumps and the tail was often removed.
Tags and Stamps:
"N" stamp indicates 1943, which was stamped onto the size tag (source: https://talesfromthesupplydepot.blog/2014/10/29/date-codes-on-ww2-british-uniforms/, https://www.warrelics.eu/forum/uniforms/wwii-british-broad-arrow-letter-codes-their-meaning-268363/#post1202265). This probably means the smock was made in 1942 but issued in 1943.
There are also small internal tags made from recycled fragments of the size tag for a pair of Khaki Drill shorts:
Re-using was probably necessary due to wartime material shortages.
Para Wings: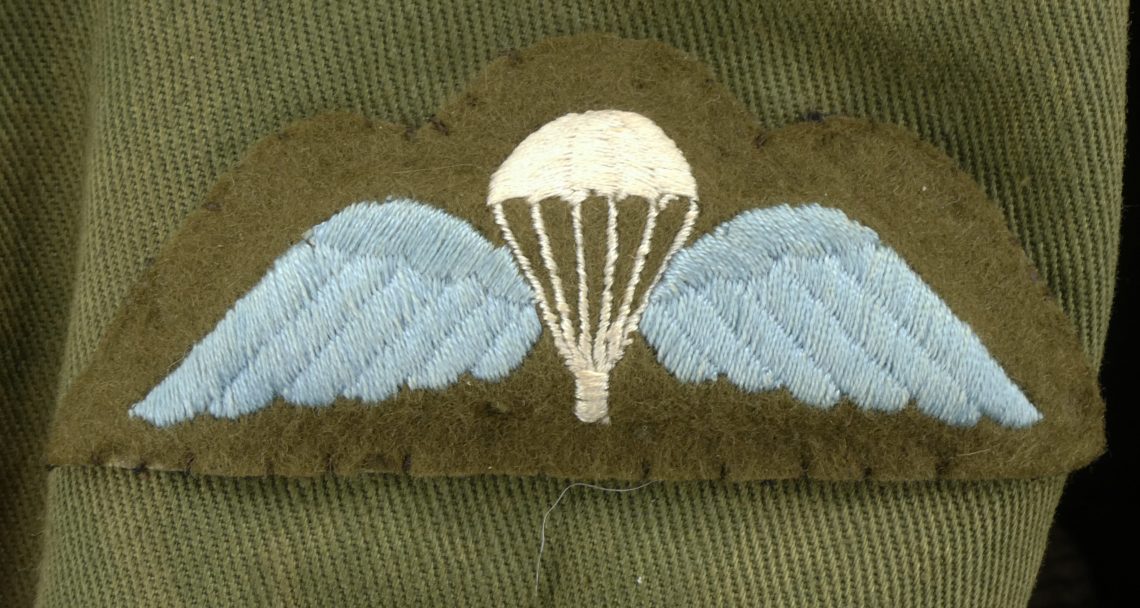 These wings were likely added onto the smock by a previous owner for display purposes since they are post-WW2 1990's production.
Cuffs: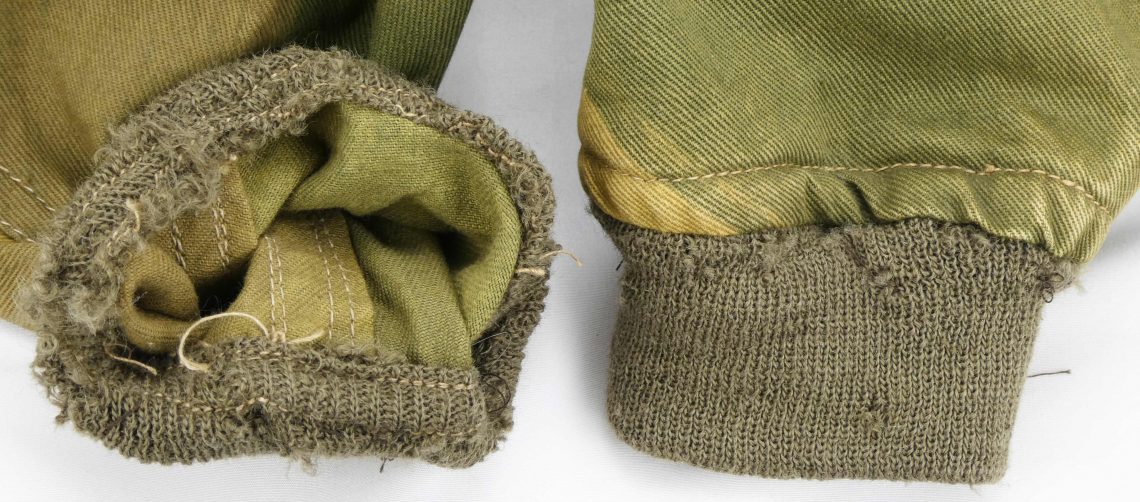 Knit cuffs.