This chest rig was an early piece of commercial nylon tactical gear produced by the Anite Co. in Pinole, California in the 1980's – 1990's period. Prior to this, Anite also sold a variety of survivalist gear and published a book about Medal of Honor recipients in the Vietnam War, advertised in Soldier of Fortune Magazine and similar periodicals:
Anite (links to owner's company website) is still active today, albeit in crime scene forensic ballistics analysis (source: http://www.buzzfile.com/business/Center-Ballistics-Analysis-510-724-1003).
Sample 1:
Design is based on the Rhodesian chest rigs. Pouches intended to hold M14 type magazines. Tag is missing on this example (a similar example with tags can be seen below and here: https://www.instagram.com/p/Bou_-CPA5pt/?hl=en; the information pamphlet has the same picture as the ad above).
The stitching in some areas is misaligned.
The Fastex QR-1 back buckle type (source: https://www.instagram.com/p/Bou_-CPA5pt/?hl=en) indicates this example was produced in the 1980's.
Ladderloc Buckles: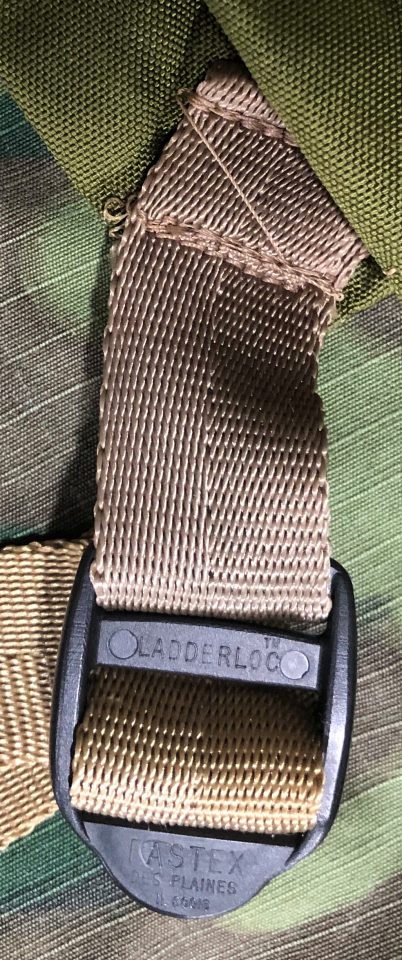 At the time this example came out, the ladderloc buckles were a new invention.
Strap Details:
The strap material feels very soft. The main body of the chest rig is made of something like the 400D pack cloth material used in ALICE packs and Niemoller vests likely to save weight.
Back Pocket:
Mid-1980s era Publix matchbook found in back pocket.
Universal Match company stopped US production in 1987 (source: https://matchpro.org/Archives/Hobby%20History/UNIVRSAL.pdf) and was liquidated in 1991 (source: http://getmatches.com/promotional-flyer-circa-1980s-universal-match-corp-targeted-to-hotels/).
Sample 2:
This example has most features consistent with Sample 1, above.
Tag:

The tag on this example is preserved. The straps appear to have been sewn on after the tag was applied since their stitching goes right over the tag.
Side Stitching:
Pouches:
Bottom:

No drainage holes.
Back Pocket:
Side Buckles:
Ladderloc buckles, like Sample 1, above.
Back Buckle:
Same Fastex QR-1 as Sample 1, above.
Usage Photos:
US Navy SEALs:
Used by US Navy SEALs during the 1980s – 1990s.
French Foreign Legion:
Used by the French 2e REP (Regiment Etranger Parachutiste) in Operation Daguet (First Gulf War, 1991).
Charlie Sheen:
Also used by Charlie Sheen in Navy Seals movie (1990).