Sample 1:
Constructed like Pattern 83 chest rig in 1000D cordura type material in nutria brown with black webbing, but with different pouch layout more similar to Rhodesian chest rig.
Buckles have ITW markings:
Missing tag, shows evidence of use. Wear pattern and red marker similar to earlier 1980s dated Pattern 83 items in used condition.
"T" on pouch for "Tourniquet" ?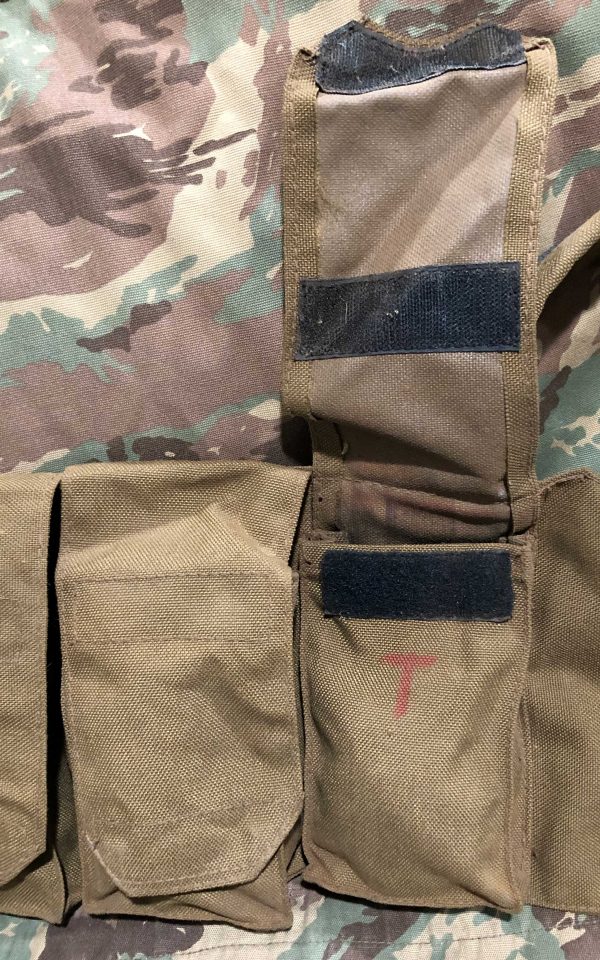 Pouches have no drain holes like most SADF nylon webbing.
Exactly the same layout as tagged example here: https://www.bidorbuy.co.za/item/249858855/RARELY_seen_SACAN_private_purchase_SADF_nutria_R4_mag_chest_webbing_near_mint.html
Removed tag ghost is even the same size and shape, and in the same location. Only difference is Sample 1 has two velcro hook attachment points on the flap while this one only has one.
Another example, also missing tags, is here: http://www.newrhodesian.ca/viewtopic.php?p=8995#p8995