Sample 1: Portuguese Style South Africa Production
Portuguese-style jacket as used by bushmen of 31 Battalion (?). South Africa produced (source: http://www.newrhodesian.ca/viewtopic.php?p=14555#p14555).
Pockets: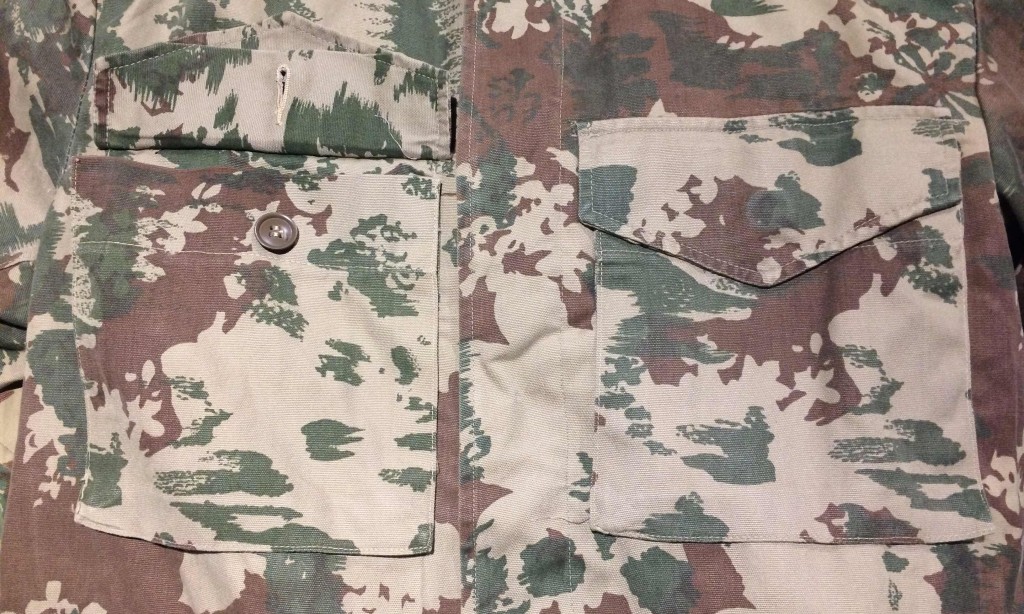 Sample 2: Rhodesian Production
"Police" version? Pile liner is like a vest. Rhodesian production (source: http://www.newrhodesian.ca/viewtopic.php?f=46&t=1484#p13915).
Tag: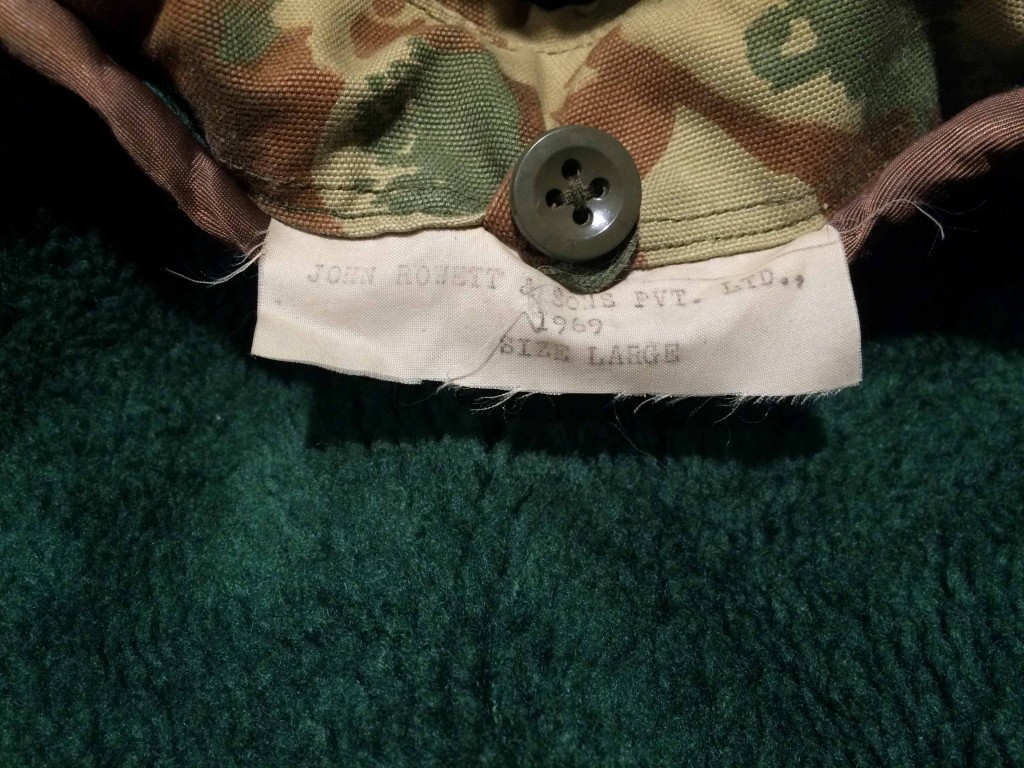 Label intact with 1969 date and Rhodesian manufacturer.
Pockets: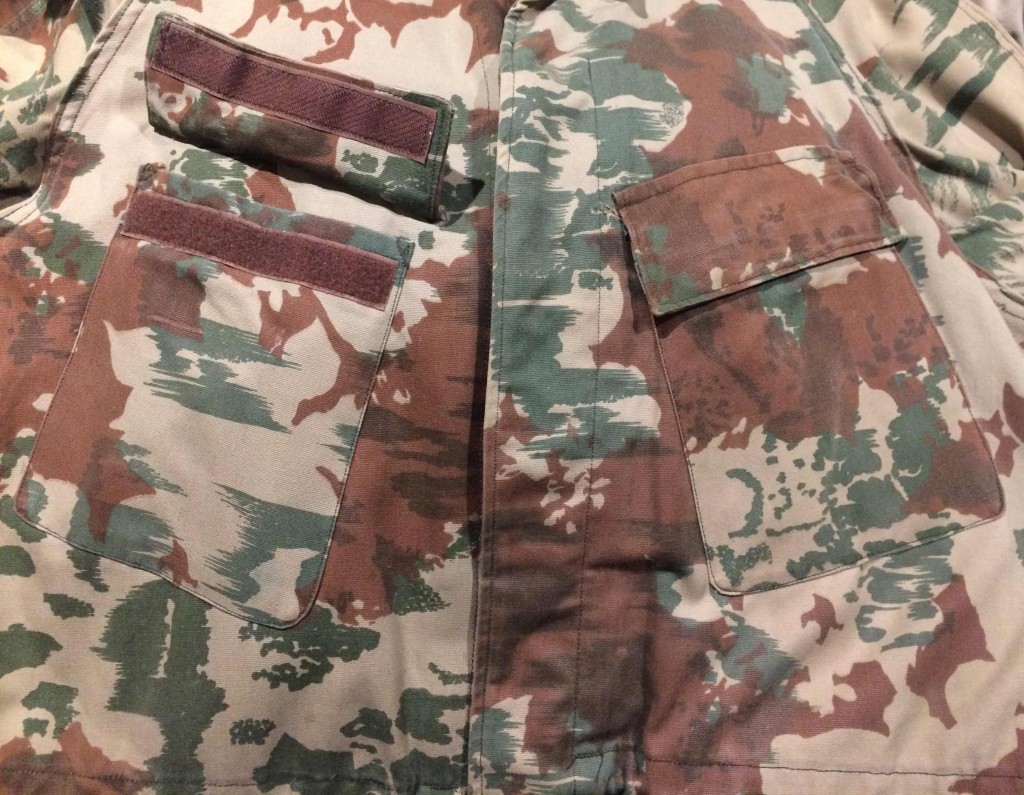 Material:
Brown color is more reddish than South African Version, above.
Sample 3: Slant Pocket
Same reddish brown as Sample 2. Exactly the same cut as later 2nd Pattern jacket.
Pockets: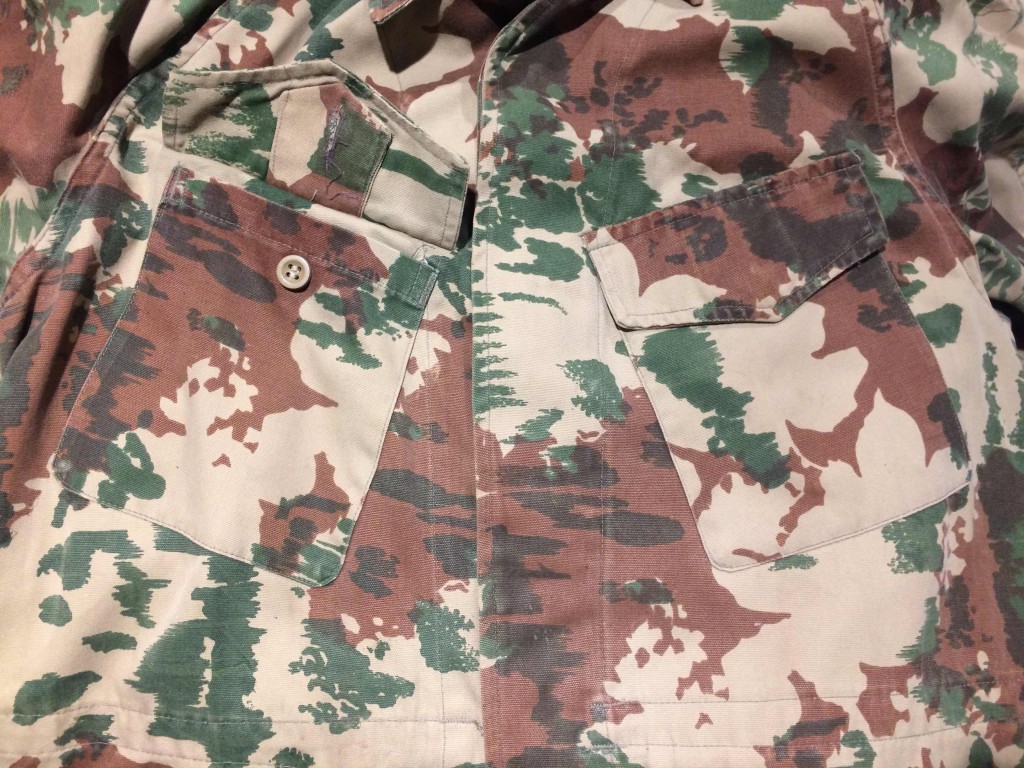 Slanted pockets with button closure.
Tag: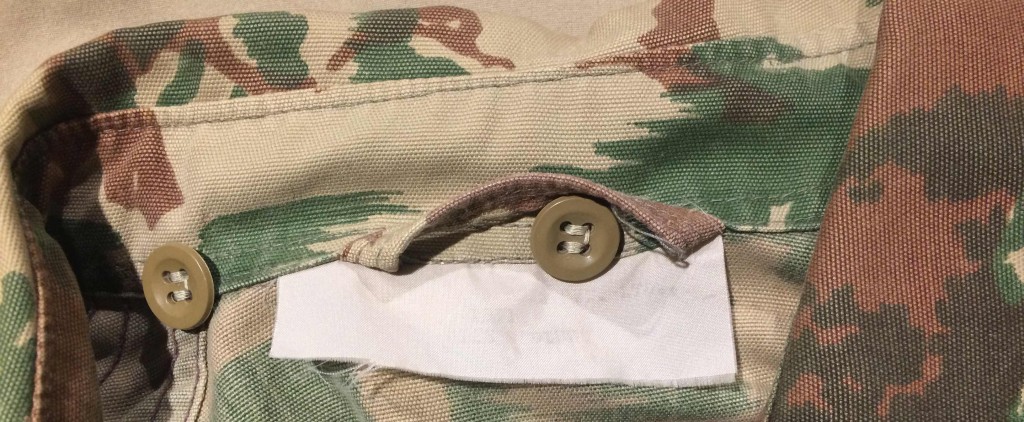 Possibly Rhodesian produced like Sample 2 due to long, horizontal tag and velcro at cuffs.
Sample 4: Hat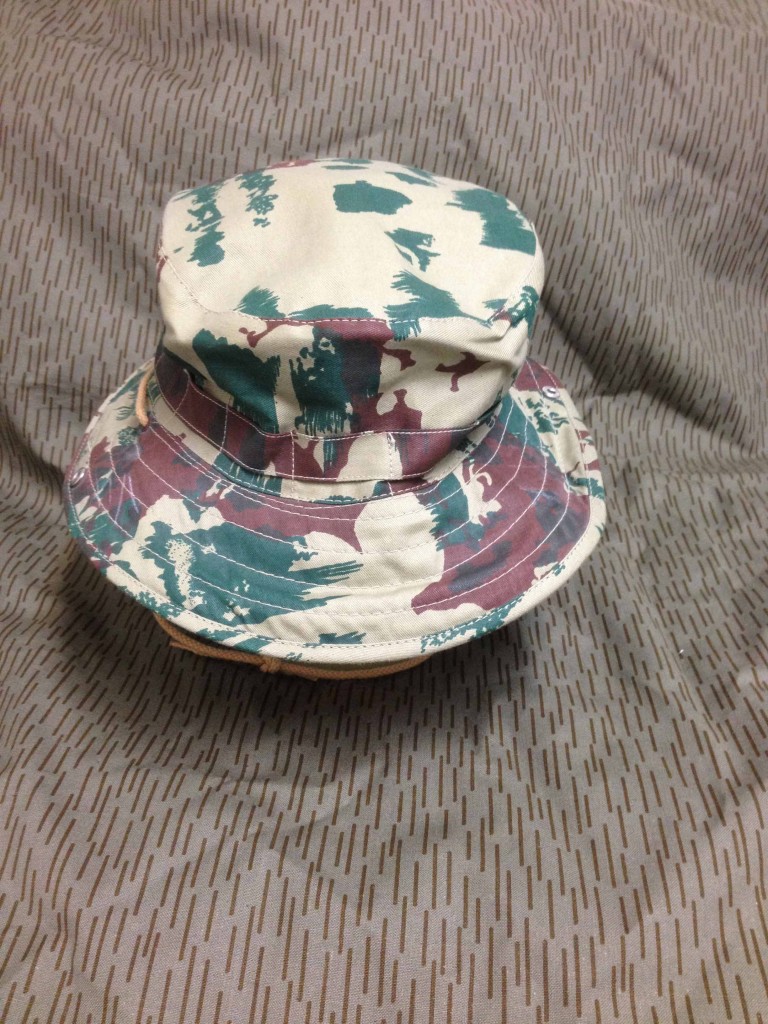 Fabric is twill, different from poplin of jackets.
Sample 5: South Africa Produced Shirt
This item was likely used by a Recce early in the Angolan War where camouflage uniforms were less available. The pattern would have also been effective in Namibia (South West Africa). The fabric is the same SADF poplin used on the samples above and the brown is not as red as Sample 1.
Pockets:
Blood group and number sharpied onto the left chest above pocket.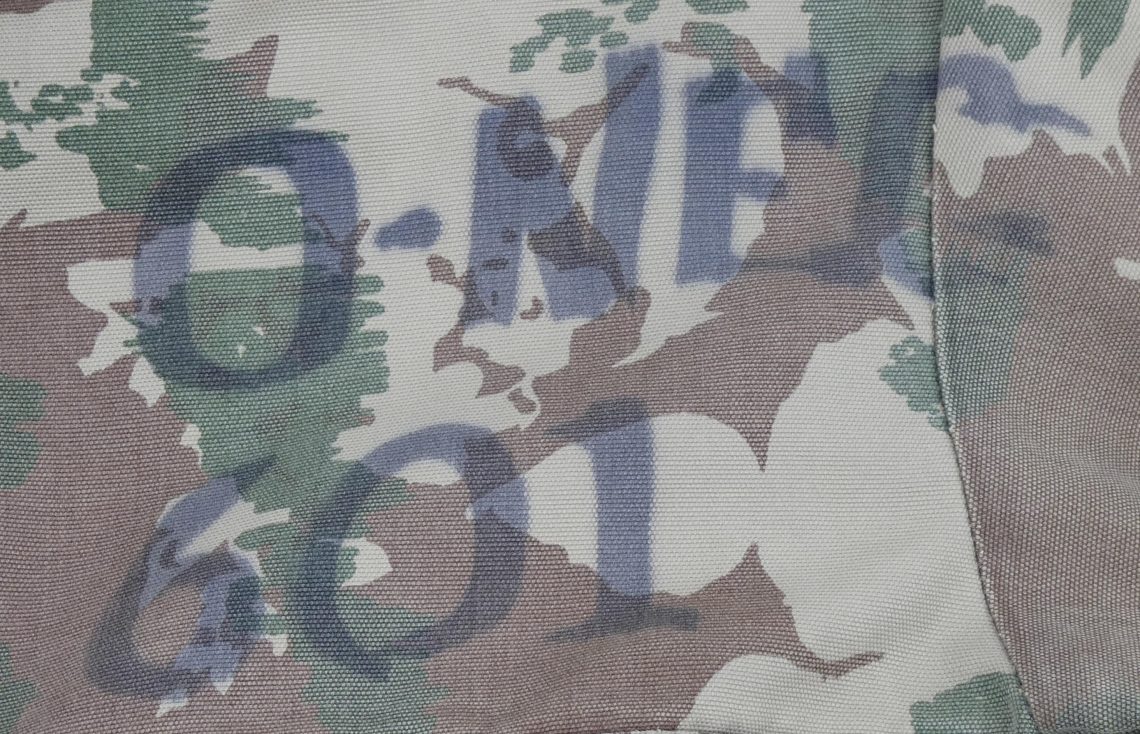 Inside: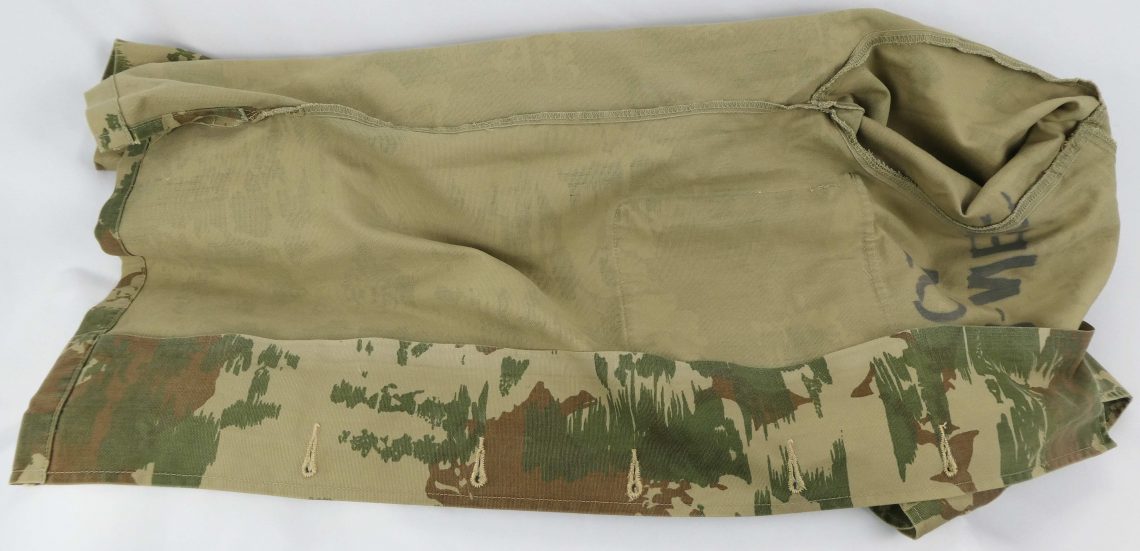 Sample 6: Hand-Made 31BN Hat
Cap is sewn together in the French Bigeard or "kiko" styke from soft shirt-weight twill, likely salvaged from a damaged garment. 31 Battalion was a light infantry unit mainly composed of native San (Bushmen) that fought in South West Africa on the South African side during the Border War. They were stationed near the border with Angola in the Caprivi Strip at Omega Base (their sister unit, 32BN, was stationed nearby at Buffalo).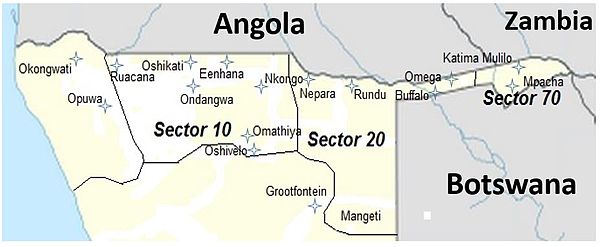 Left and Right Sides:
Scrunched up material is due to elastic sewn under the brim.
Top and Back:
Inside:
"Sweatband" appears to be standard SADF nutria brown material. The white strips are elastic.
Usage Photos:
There is a photo of Colonel Jan Breytenbach wearing one while cleaning an AK on Page 341 of the book South Africa Special Forces: The Men Speak by Jonathan Pittaway and Douw Steyn.
31 Battalion:
Color Balanced Swatches:
Brown on South African version (sample 1) is much less red than brown on the Rhodesian version (sample 2).