All MARPAT items have the Marine Corp's Eagle Globe Anchor (EGA) symbol embedded in the camouflage pattern.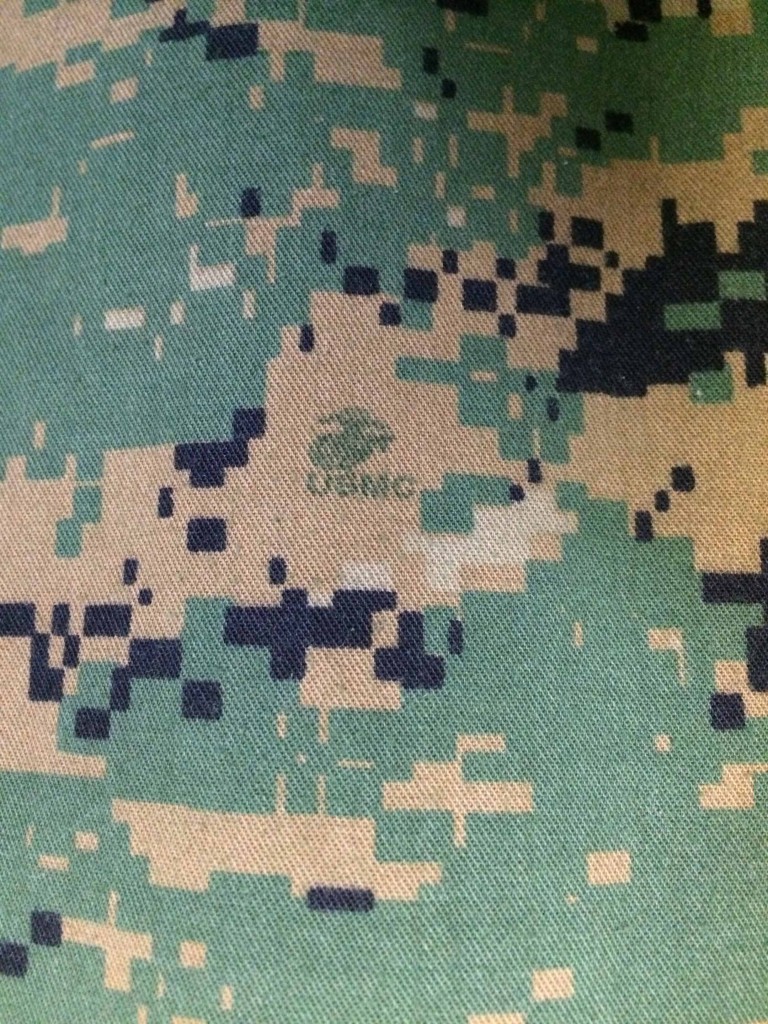 Woodland MARPAT MCCU
Jacket:
Tag: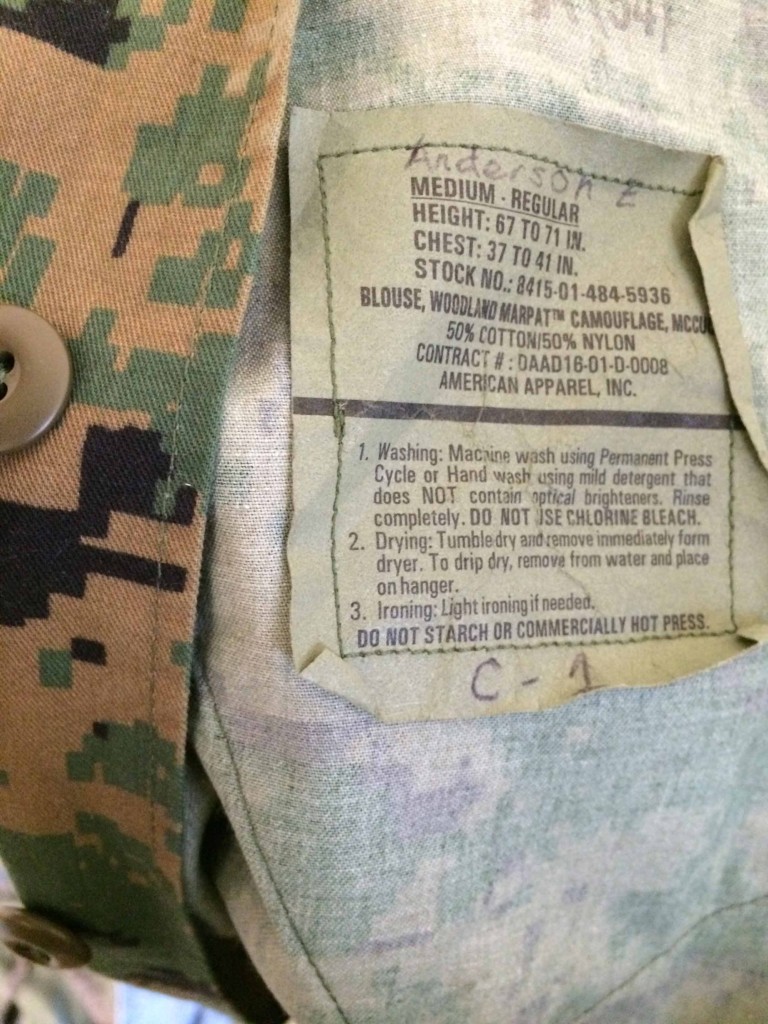 2001 contract date, which is the year the MARPAT patent was filed (source: https://www.google.com/patents/US6805957) and when Marines started being issued items in the pattern (sources: https://web.archive.org/web/20130919093854/http://ww2.dcmilitary.com/dcmilitary_archives/stories/011702/13087-1.shtml, https://books.google.com/books?id=61DqDAAAQBAJ&pg=PA1996-IA17&redir_esc=y#v=onepage&q&f=false).
Name Tape: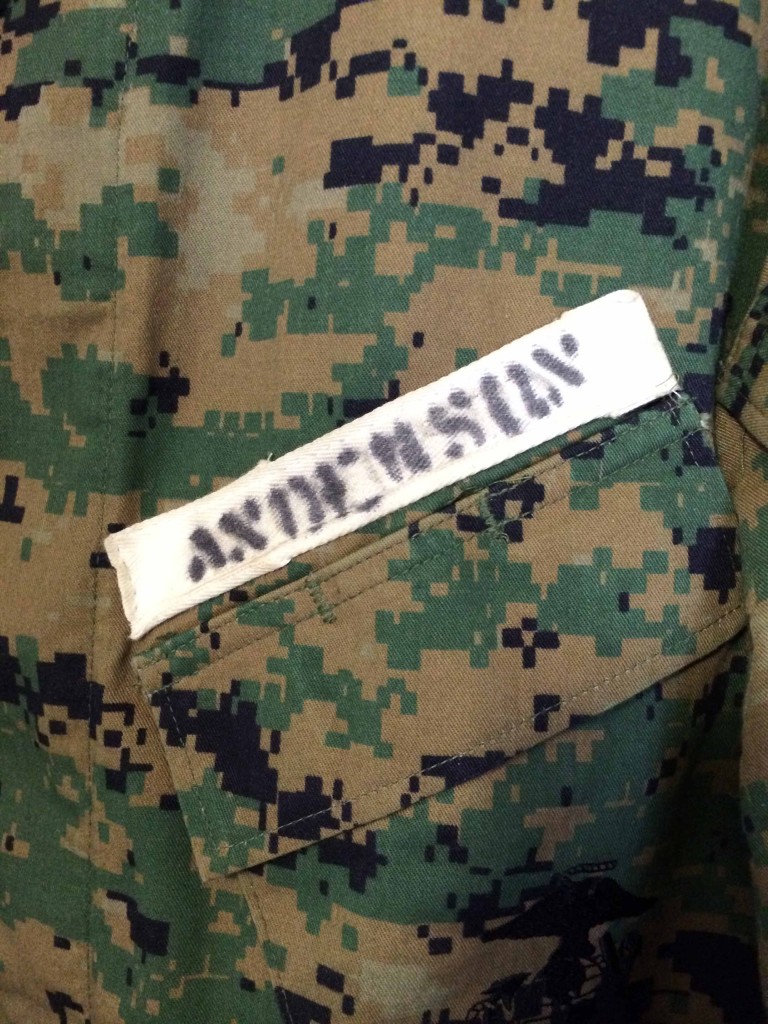 Apparently on the opposite side of where it should be. Name tape is also stamped onto a piece of white webbing, maybe because pattern-matching tapes were not available at the time it was used. This is sometimes seen on early-dated NWU3 items.
Woodland FROG Shirt:
Woodland MARPAT FROG gear is much less common than its desert pattern counterpart. Item no longer in my collection.
Usage Photos:
Although rarely photographed, Woodland MARPAT FROG gear was extensively used by Marines guarding the Hamid Karzai airport during the evacuation of Kabul (August 15 – August 30, 2021).
Boonie Hat:
This particular hat was modified to have a shorter brim for enhanced visibility and hearing. Similar modifications are often seen on British/Commonwealth boonie hats, which are made with a shorter brim than the American versions. Shortened brim modifications are associated with Force Recon and were more commonly done to previously issued boonie hats whose brims were even larger than the MARPAT hats (source: https://books.google.com/books?id=YzyVCwAAQBAJ&pg=PA11&lpg=PA11&source=bl#v=onepage&q&f=false).
Inside and Tag:
2002 contract date.
Top: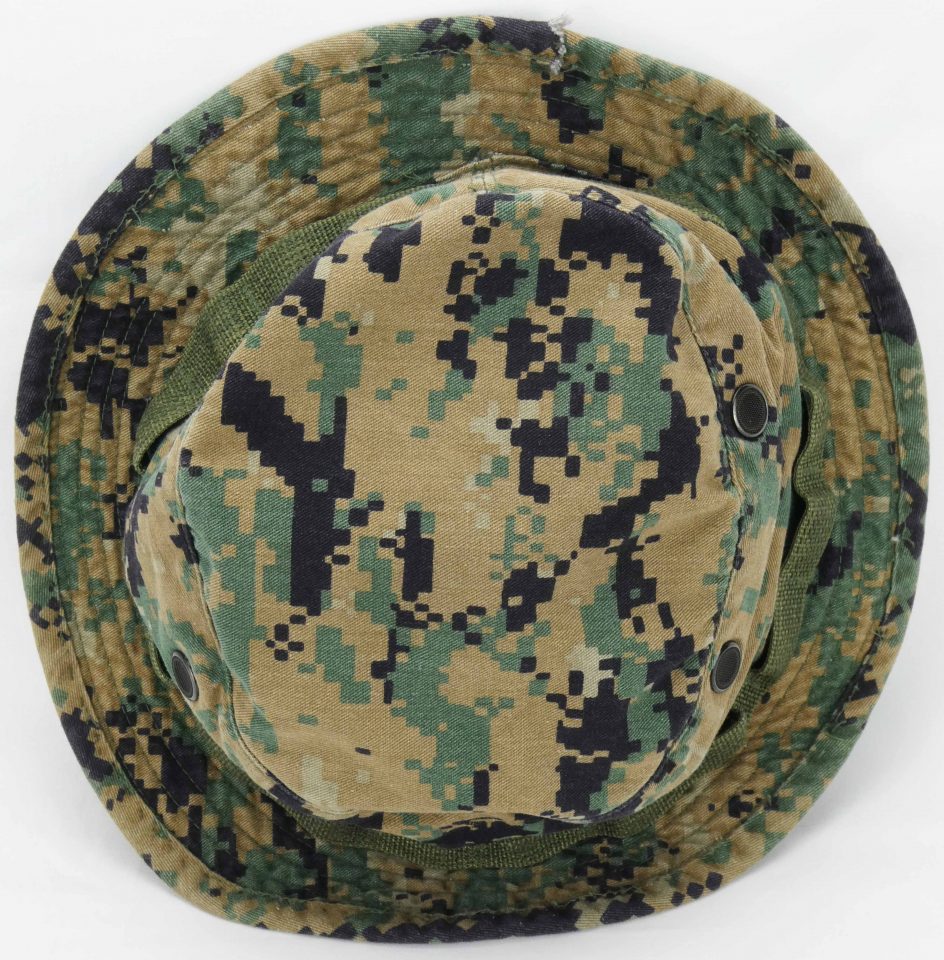 Brim:
The brim's edge was stitched back on by hand after cutting.
Desert MARPAT MCCU:
Jacket:
This jacket was modified with velcro for Navy insignia, similarly to the Crye field shirt, and no embroidered Eagle-Globe-Anchor logo on the chest pocket. Similar "sterile" modified MARPAT uniforms were reported to have been used by Navy SEALs in 2006 in the area around Ramadi and Habbaniyah, Iraq (source: https://www.facebook.com/groups/1800973036588888/posts/5323951347624355/, pictures pending).
Tags: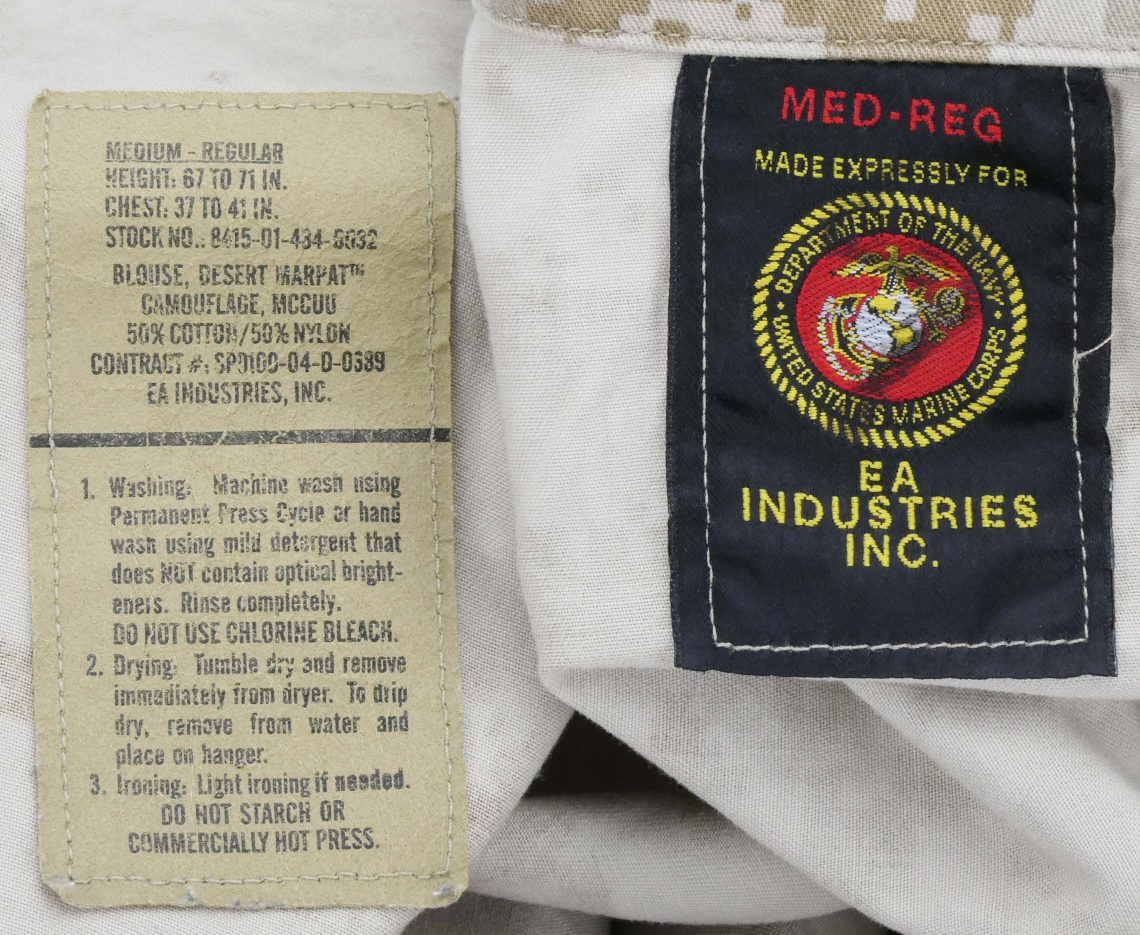 2005 contract date.
Chest Pockets:
The left pocket (as worn) is a replacement from a different MARPAT top since there are signs of stitch removal and re-sewing around the pocket and no sign of the embroidered EGA being removed.
Arm Pockets: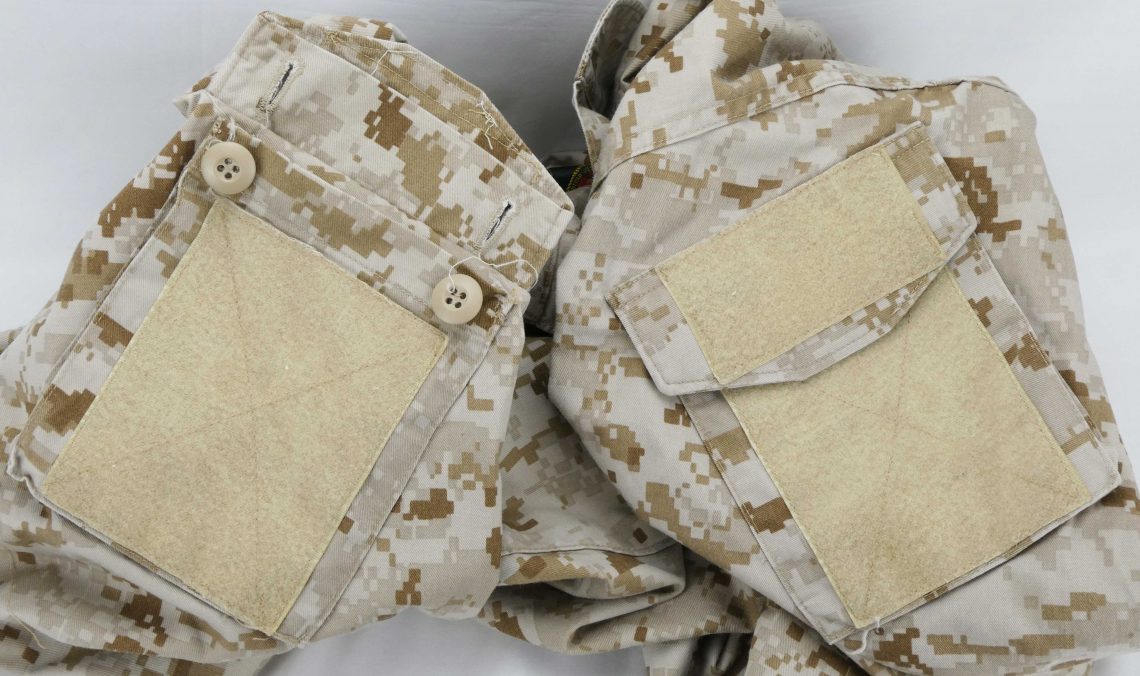 Crye Precision/ACU style velcro.
Other Item:
The jacket was found with this USMC Close Quarters Battle Equipment (CQBE) Flame-Resistant Assault Suit, which would have been useful in the Al-Anbar region (where Ramadi and Habbaniyah are) due to the heavy use of Improvised Explosive Devices (IED's) with accelerants. Many pictures of Marines and other personnel in the 2006 Battle of Ramadi show them wearing flame resistant flight suits (source: https://en.wikipedia.org/wiki/Battle_of_Ramadi_(2006), https://commons.wikimedia.org/wiki/File:Defense.gov_News_Photo_060425-M-9529D-011.jpg) to protect themselves from IED's.
Usage Photos:
Some SEAL snipers wore MARPAT uniforms in 2005 – 2006, particularly when attached to Marine Corps units (source: https://www.devtsix.com/photo-requests-t4064-s3870.html#p183003).
Fleet Marine Force Navy Officer Grouping:
Desert MARPAT MCCU #1
The Desert MARPAT MCCU is cut identically to the Woodland version, except in Desert MARPAT material.
Arm Pockets:
Velcro is hand-stitched.
Chest Pockets:
Chest velcro in this example is also hand-sewn.
Tags: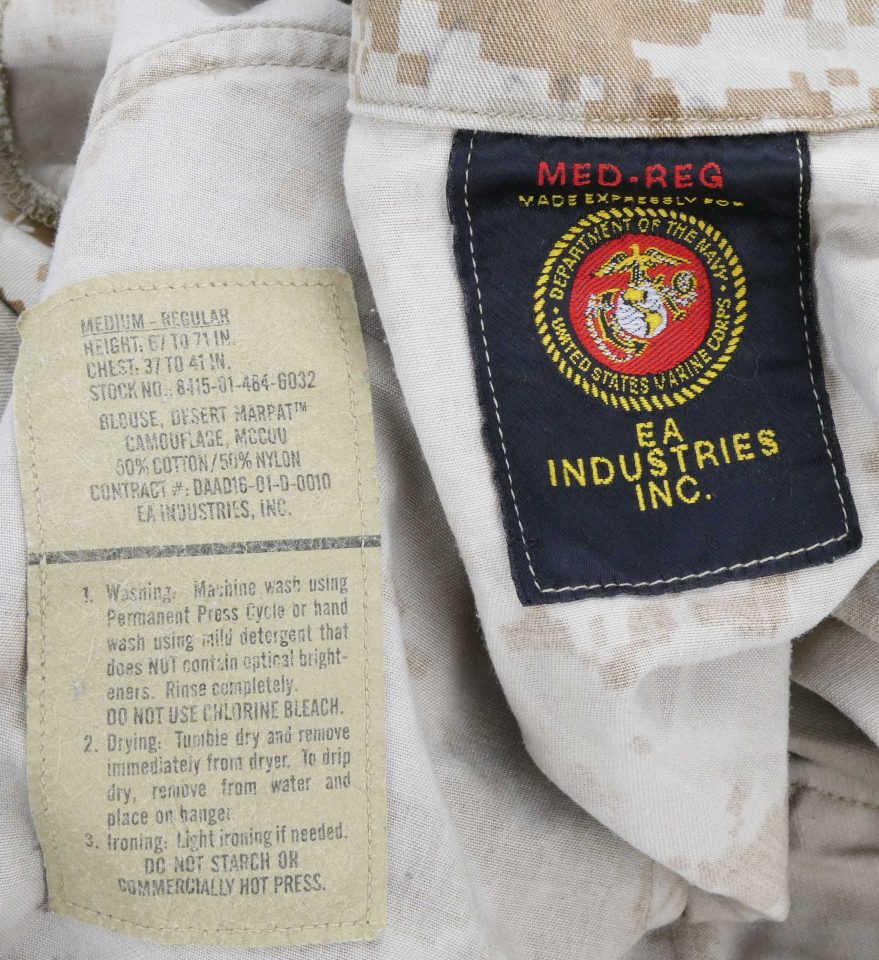 2001 contract date.
Desert MARPAT MCCU #2
Unused condition.
Arm Pockets: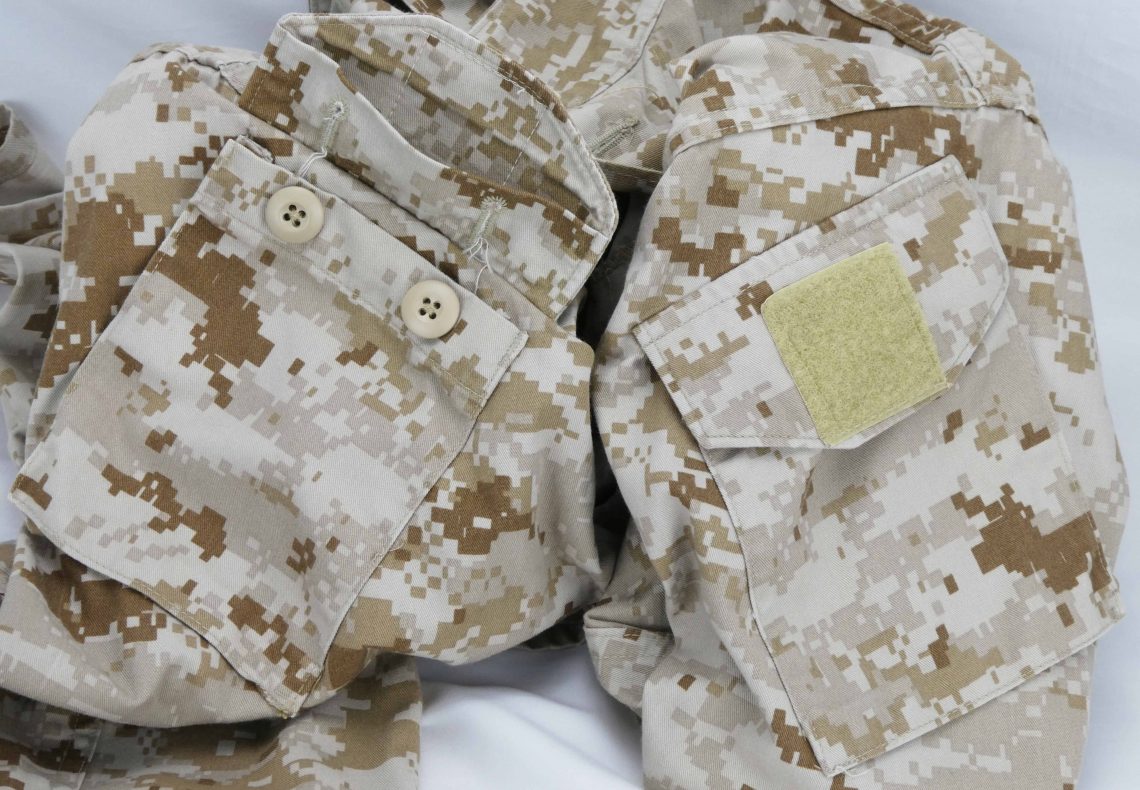 Velcro is machine-stitched. Squares are for infrared-reflective patches and are found in the same position as on the FROG shirts.
Chest Pockets: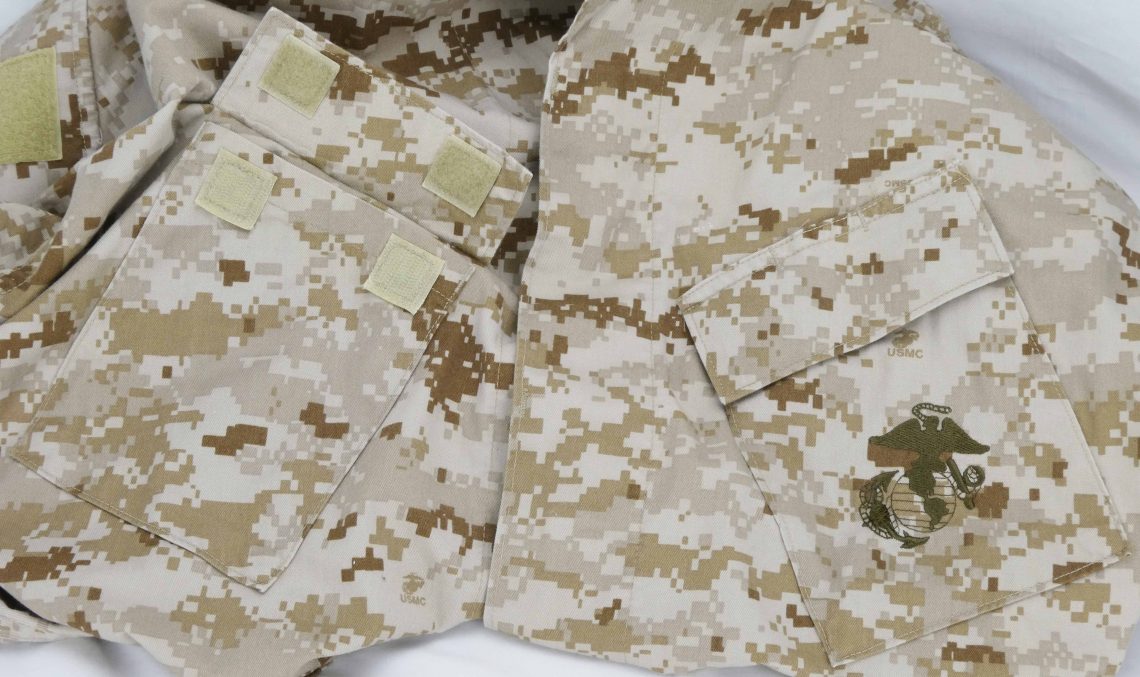 No velcro patches on chest.
Tags: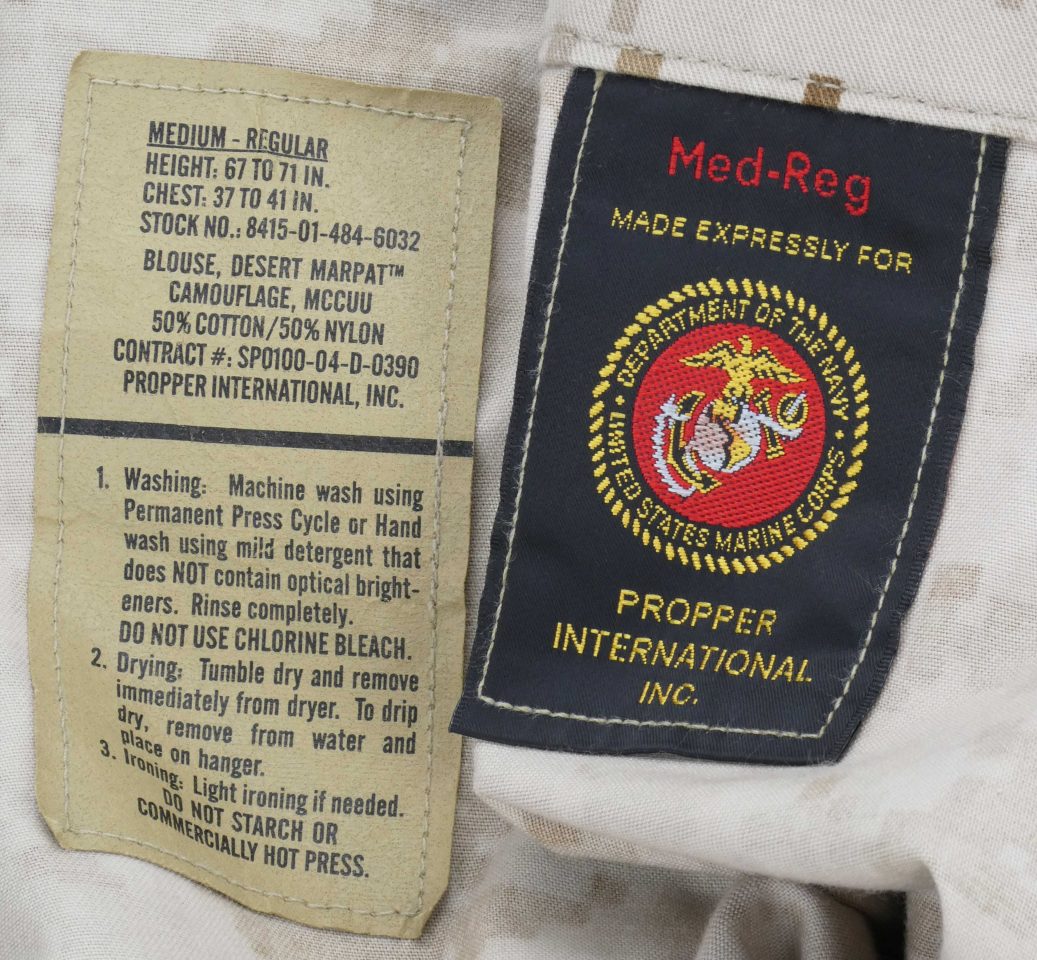 2004 contract date.
Commercial Woodland MARPAT MCCU
Cut is the same as a standard MCCU, but made from cotton ripstop material.
Arm Pockets:
Arm pocket velcro is hand-sewn like on the 2001 Desert MARPAT MCCU #1, above.
Chest Pockets:
Chest pocket velcro is hand-stitched as well. The pockets are closed by buttons, not velcro.
Tags:
Commercial item, so not Berry compliant.
Desert MARPAT Navy Garrison Hat:
The "Navy Garrison Cover" is the same 8-point design as the MCCU's cover, but without the USMC Eagle Globe Anchor insignia embroidered on the front. It is made from the same twill desert MARPAT fabric as the uniforms.
Insignia:
Naval Officer's insignia is pinned onto the front. Naval officers assigned to the Fleet Marine Force include chaplains and medical officers.
Inside and Tag:
Vents have verdigris corrosion.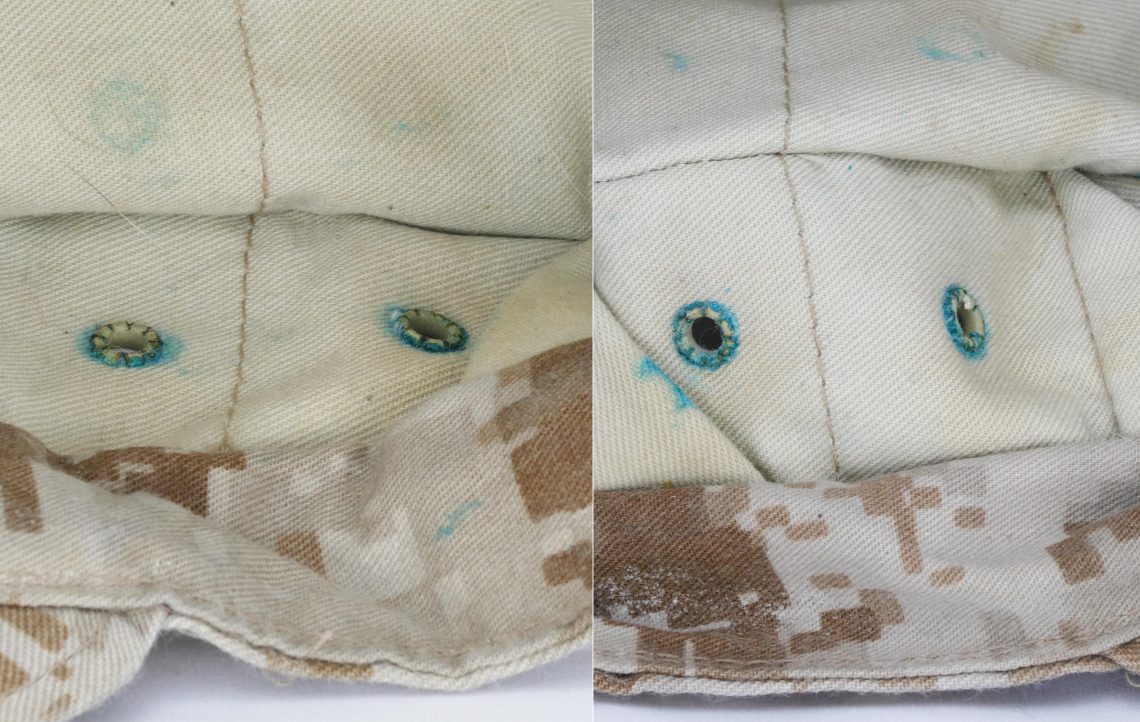 Top: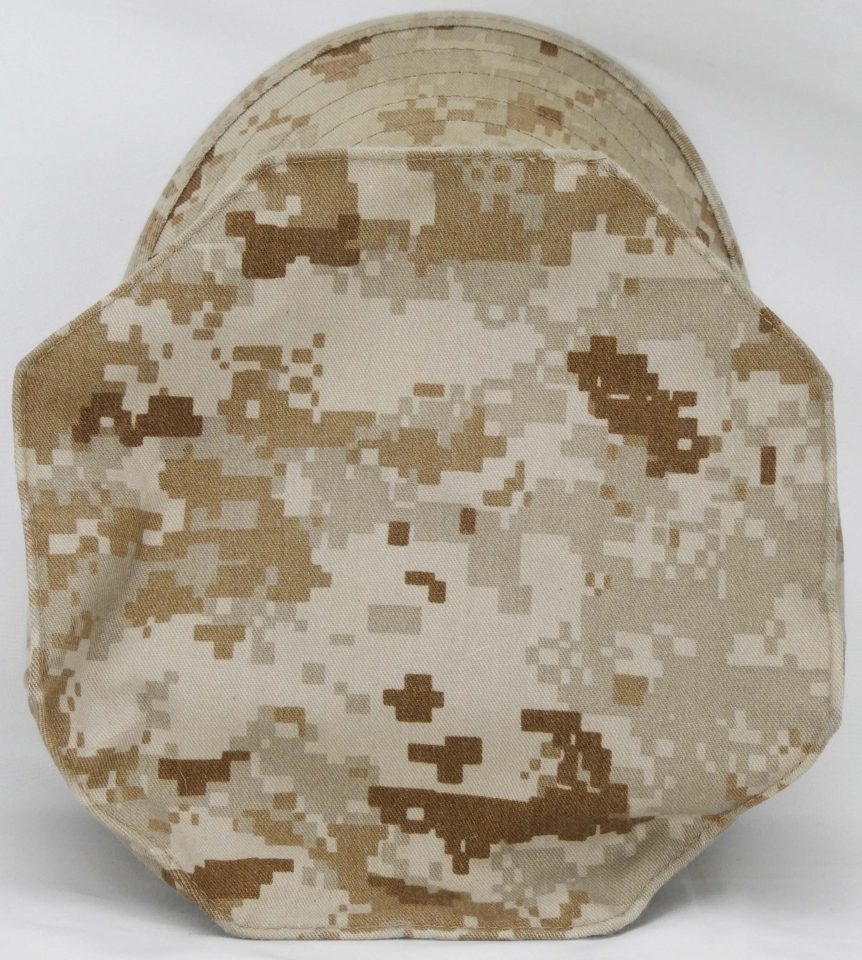 Color Balanced Swatch: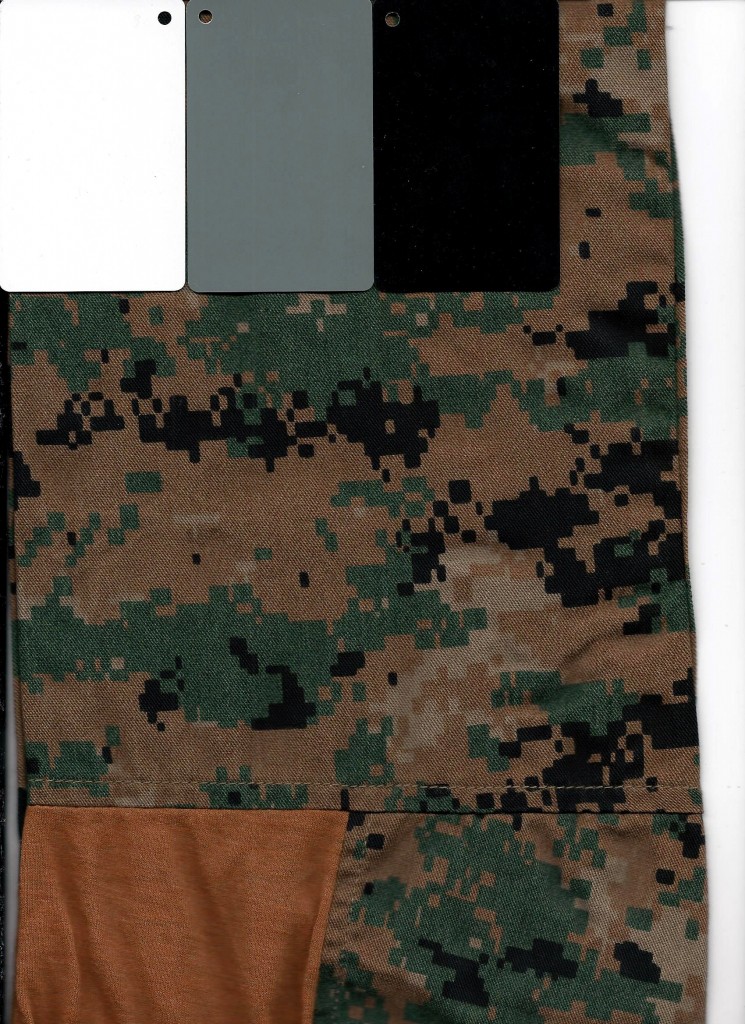 Taken from Woodland MARPAT FROG shirt.